Today's interview is a really special one. For over thirty years, this man has been making a name for himself through his publishing company, Cemetery Dance, as well as his stories and collaborations with other writers (including a certain Royal Scariness we all know and love). He's got two new books out, The Girl on the Porch and Gwendy's Magic Feather (the sequel to 2017's Gwendy's Button Box with said Royal Scariness). I can't believe he's here to talk with us! Ladies and Gentlemen, Followers of Fear, let me introduce Richard Chizmar!
Rami Ungar: Mr. Chizmar, welcome to my blog. Please tell us who you are, about your writing, and about Cemetery Dance Publications.
Richard Chizmar: I'm an old dude (early 50s) who lives with his wife and two sons in Maryland and has been really fortunate in life. I started a nuts-and-bolts small press magazine called Cemetery Dance while I was still in college. The magazine found a growing readership with each issue, and I never had to go out and get a real job. A few years later, I started publishing horror and dark suspense books. The rest is history. All the while, I was writing my own stories of horror and suspense, and a few years back in 2017, I co-wrote a book called Gwendy's Button Box with my longtime friend Stephen King and became a thirty year, overnight success.
RU: Tell us about The Girl on the Porch and Gwendy's Magic Feather. How did those projects come about?
RC: The Girl on the Porch was inspired by a real-life incident where a doorbell camera in a suburban neighborhood recorded a terrified woman with shackles on her wrists in the middle of the night. Once the homeowner's discovered the footage, the woman was long gone and no one knew what had become of her. I saw the video footage online a number of times and it haunted me. I knew early on that I needed to write my own version of the story and furnish my own version of an ending.
Gwendy's Magic Feather is a direct sequel to Gwendy's Button Box, which I wrote with Steve King. I woke up one morning with a very clear picture in my mind of what Gwendy had been up to since the ending of the first book. I emailed Steve the idea early that day, with no real plan to pursue it, but he responded very favorably and encouraged me to write it. So I did. It's due to be published in hardcover on November 19.
RU: You've worked with other authors before, including Stephen King, as we've both mentioned. How does that process work?
RC: The process differs for many writers, but in my case, in each instance, it's just been a matter of emailing the manuscript back and forth until one of us typed THE END. Allowing complete freedom for both authors to rewrite each other, layering and blending the work until it becomes a third, unique voice. That's the only way I know how to collaborate.
RU: What about horror and dark fiction draws you in and makes you want to write and publish those sorts of stories?
RC: I've always been drawn to the darker side of things. It's strange. In real life, I'm a happy and optimistic person, but when it comes to entertainment (books, movies, comics), I've always liked the fantastic and scary stories. Despite my outward cheeriness, I tend to see most clearly in the shadows. I might be walking down a Main Street sidewalk on a sunny July afternoon, but it's not the smiling mother holding her daughter's hand or the laughing elderly couple waiting at the corner I see; instead, it's the dark alley across the way that looks like it could be hiding a monster. In fact, are those eyes I see glowing in the shadows? It's just the way my imagination works.
RU: Oh crap, he spotted me! *cough* I mean, as a writer and the editor/owner of Cemetery Dance Publications, do you see yourself as someone who's significantly helping to shape the horror genre and its future?
RC: I've never really given much thought to that kind of big question. We've always been too busy hustling to stop and ponder whether we were having a large-scale effect on the genre. We've been around for over 30 years now and that's what is most important—that we continue to survive and thrive and keep bringing readers entertaining stories.
RU: What are some upcoming projects you have in the works?
RC: After publishing four books in 2019 (the trade paperback of The Long Way Home, The Vault, The Girl on the Porch, and Gwendy's Magic Feather), 2020 will be a bit of a break for me. I should have one of those nifty "Little Books" out from Borderlands Press and hopefully the sequel to Widow's Point, co-written with my son, Billy. Not sure what else might pop up.
RU: When you're not writing, publishing, or reading horror, what are you up to?
RC: Fishing, exercising, working around the house, fantasy football. Mainly just spending as much time with my wife and sons as I can. I'm fortunate to do the majority of my work at home, so my days and nights are interwoven with family lunches and dinners, attending the boys' sporting events, movie and game nights, and whatever other adventures life throws at us.
RU: What is some advice you would give other writers, regardless of background or experience?
RC: Read as much as you can. Write as much as you can. Don't tailor your work for the market; write about what moves you, scares you, excites you. No matter how small the story is. Don't feel like you have to invent the wheel or write a high concept story to make your mark. Readers respond to a writer's honesty and voice. Expect a long road ahead. Accept rejection and speed bumps as part of the process, almost like badges of honor.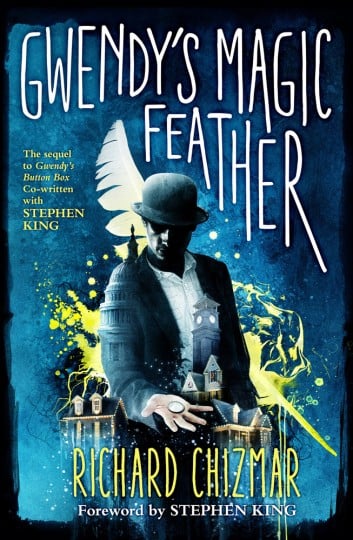 RU: And what is some advice for writers who want to be published in Cemetery Dance? Asking for a friend, I swear.
RC: Read the type of stories and books we publish. Capture our attention in your synopsis and tell a story that is difficult to put down. Be persistent.
RU: Final question: if you were stuck on a desert island for a while and could only bring three books with you until you were rescued, which would you pick?
RC: IT by Stephen King, Lord of the Flies by William Golding, and Boy's Life by Robert McCammon.
RU: I've read two out of three of those, and I really have to get on the third. Anyway, thank you for joining us, Mr. Chizmar. It's been a pleasure.
If you would like to learn more about Richard Chizmar, you can check him out on his website and on Cemetery Dance's website. If you want to read The Girl on the Porch or Gwendy's Magic Feather, you can find both books on Amazon.
If you're curious about other authors I've interviewed, you can check out my Interview page. And if you're an author with something new out you'd like to broadcast, you can hit me up at ramiungar@ramiungarthewriter.com. I usually have time for an interview or two, so let me know.
That's all for now, my Followers of Fear. Until next time, pleasant nightmares!