You know, this may not be the biggest issue in my life. And it may not be the meaningful thing I could write about on this blog. But you know, it's something I find myself pondering from time to time. What do my Top 6 Favorite Horror Movies say about me and my interests?
(It used to be 7, but I realized while making my list that while I enjoyed the film, it wasn't something I would gladly watch again and again and again, just say the word go. Also, my tastes change over time, so this list could look very different in ten or even five years, as well as grow or shrink.)
But what does it say about me that I enjoy these particular films? What about them draws me to them? I tried to figure it out by listing them and then listing what I liked about them. Here are the films in question:
Perfect Blue (1997)
Based on the novel by Yoshikazu Takeuchi and directed by Satoshi Kon, Mima Kirigoe is a J-Pop idol who is forced by her agency to transition into acting. This and a violent stalker sends Mima into a violent psychological down-spiral, one which may very well claim her life.
One of the few good examples of anime horror I've come across in my life. The art style is also excellent, where characters and scenes are animated with a sense of realism rather than the usual anime exaggerations. This gives the horror a certain sense of realism that you wouldn't normally find in anime.
The movie works to make you question, along with Mima, every moment of reality. What is real, what isn't, what's a dream, what's part of Mima's TV drama and what's her actual life. It's all up for debate throughout the movie, with the use of color, quiet scenes vs acting and dancing scenes, and repetition of events making you feel the disorientation Mima feels. All leading up to a final third with a horrific twist.
Color Out of Space (2020)
Starring Nicholas Cage and based on the novella by HP Lovecraft (one of my favorites by him, BTW), a meteor falls in a small West Virginia farm, giving off an odd color that can't really be categorized. Soon after, strange events start happening on the farm, changing the plant life, the family, and reality itself. All leading to a devastating conclusion.
Ask most film critics, it's one of the best HP Lovecraft/Lovecraftian horror adaptations ever made.
The film's very misleading, at first playing up Cage's penchant for odd acting and adding in plenty of comedy. Later on, however, Cage's performance goes from funny to sinister, and the humor vanishes as the number of scary events occur and build, filling with you with dread.
The mix of practical effects and CGI is well done, with the latter only being employed as absolutely needed and the former being used enough to make fans of The Thing proud. This allows for the final scenes to be really horrifying, even when chock-full of CGI.
Just watch the cutting board and alpacas in the barn scenes. You'll be scarred for life.
Overlord (2018)
During the D-Day invasion, a small troop of American soldiers sneak into a French town to take out the Nazi's radio tower, preventing the Nazis from calling for help. What follows is a harrowing ride through hell as the team confronts not just Nazis and the horrors of war, but deadly experiments that may end up changing the tide of the war.
Despite being a "Nazi zombie" film, which is usually silly or played for laughs, this film plays it much more seriously. The zombies are almost a secondary feature of the film. The real emphasis is on how war scars and changes you, how horrible the drive to win can make a person, and how war brings out the depravity in all of us. When the zombies are on screen, they're used sparingly, only to heighten the horror and the stakes.
During the scenes where the protagonist explores the laboratory, the emphasis on mood and atmosphere creates a powerful dread of what's around every corner, under every sheet. If you've ever seen or played the game Outlast, it often feels like you're in the middle of that game, and that is a terrifying thought to have.
Sleepaway Camp (1983)
As a young girl, Angela sees her father and brother killed in an accident on a lake adjacent to Camp Arawak. Years later as a teen, Angela and her cousin Ricky go as campers, only for a strange series of deaths to ruin the summer fun. And in the center of it all, Angela seems to be a fixture.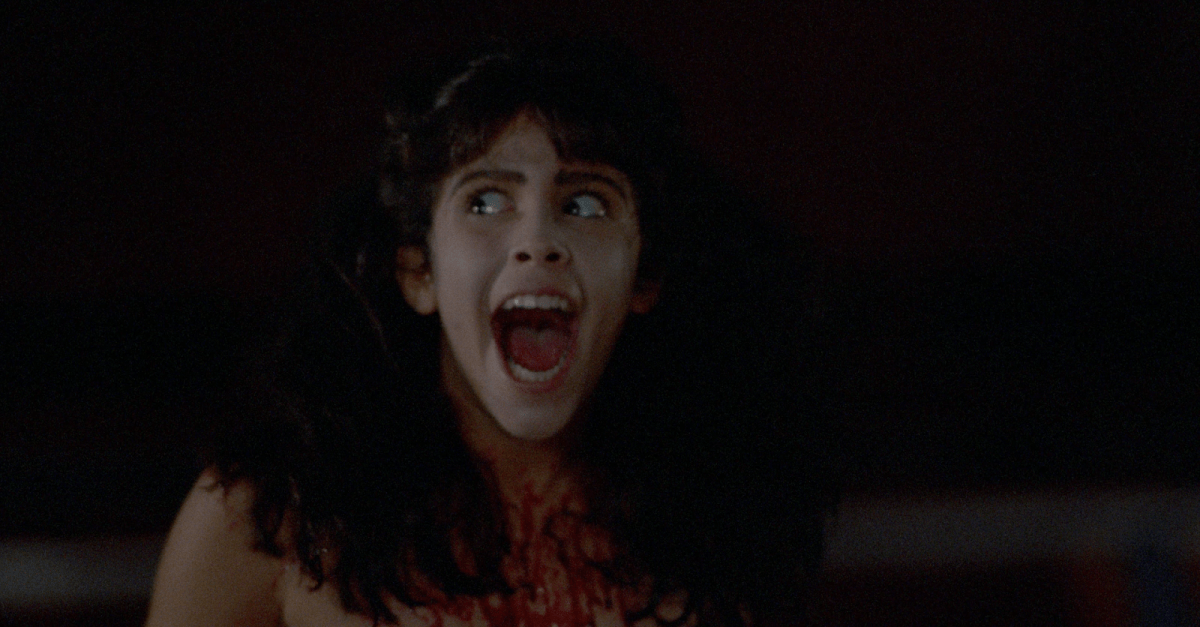 This is a rather unique 80's slasher. For one thing, the campers are all played by actual teens and tweens, rather than adults pretending to be teens. Coupled with the teens language and behavior, it often reminds me of my own camping days, except less Jewish and more murder-y.
There are also prolonged periods between (admittedly inventive) kills, which allows you to really get to know the characters and remind you that these are just kids. This makes each instance of death even more shocking and brutal than it would be if they were in your face one after the other.
The twist in this movie is rather famous and forces the viewer to recontextualize everything in a new light. I won't say what happens, but ooh boy, it's not the sort of thing you could do today. I'd be interested to see how a remake handles this twist and reworks it for a modern audience. Also, I wish there was a novelization for this movie, because it would be great.
The Taking of Deborah Logan (2014)
A medical student is filming a documentary about an older woman's battle with dementia. While out at her country home, however, it becomes increasingly clear that this woman is dealing with something else besides dementia: a dark presence has come for Deborah Logan, and it'll use her to accomplish its sinister goals.
Both a found footage and a possession movie, the take on the latter is very unique, both in the victim of possession and who/what is doing the possessing. However, since this is a film about a woman with dementia, it misleads you at first so that you don't know if what you're experiencing is really supernatural at first. And when it becomes clear that something supernatural is happening, it becomes both terrifying and tragic.
Did I mention this film is terrifying? Not just for anyone whose relatives have experienced dementia (and I've heard from people that that's a form of terror in and of itself), but just as a horror movie it is terrifying. From dark and claustrophobic scenes in an abandoned mine to strange happenings in the house and one bloody scene that freaked me the hell out, this is not a film you want to watch with the lights out.
Prince of Darkness (1987)
A Catholic priest discovers an ancient artifact in the basement of an abandoned church that points to the fulfillment of an obscure end-of-world prophecy. Needing to prove it to the world, the priest enlists the help of several prominent professors from a local university and their grad/PhD students to help quantify this strange, evil miracle. As you can guess, shit really hits the fan.
One of John Carpenter's lesser known masterpieces (which I think is a damn shame), the film has a unique take on God and Satan that feels more at home in a UFO cult, but works really well here. It also has some interesting ideas and themes to explore, such as the nature of evil, the relationship between religion and science, and even an allegory for the AIDS epidemic, which was at a peak when this film was made.
Also, while not the scariest thing ever, it is pretty damn creepy and has some truly great moments of horror.
So, there you go. These are my favorite horror films right now. And I struggle to find a unifying theme about why I elevate them above all others. Half of them are from the last decade, two from the 1980s, and one from the 1990s. They all place a lot of emphasis on psychological horror, but how and how much varies from film to film. Only two of them are adaptations of anything. No similar genres, directors or writers, different themes are explored in each one, and I own copies of all of them on DVD or Blu-Ray.
Maybe it's just that they stick in my head more than others, or that they impressed me in some way that other horror films haven't. Perhaps they're the kind of stories I wish I'd wrote, or I like thinking of what I'd do with the material. Wait, no, it's not that. I think that with every horror film.
Well, maybe you'll help me find some insight. If nothing else, there's a chance you'll be curious enough to see these films if you haven't watched them before, or give them another watch if you have. You may even notice something I don't.
You may even make some of them part of your Halloween watchlist this year (63 days till Halloween at the time of this writing). And if you do, I also recommend adding Carnival of Souls (1962), Killer Klowns from Outer Space (1988), Rosemary's Baby (1968), As Above, So Below (2014), The Void (2017), both versions of The Fly (1958 and 1986), the 2013 remake of Carrie, It (2017), and Freaky (2020). All make great additions to your Halloween viewing lineup. Not to mention all the movies coming out starting next month. I'm getting chills just thinking about it!
Anyway, this has been a long post and it's getting late. I'm going to end it here and call it a night. Until next time, my Followers of Fear, good night and pleasant nightmares!
What are your thoughts on these films? Did you notice anything I didn't? What are your favorite horror films that you recommend to everyone?