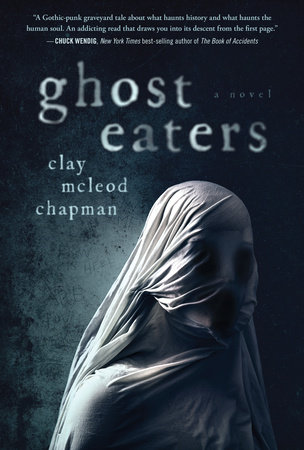 I hate that I never have enough time to read physical books. Audio books, I can listen to while working, cooking or driving, but a paperback takes time because I'm busy all the time. I'm glad I was finally able to get through this one, though it took much longer than I would have wanted to. Oh well. Here's the review.
Ghost Eaters follows Erin Hill, a college graduate who feels purposeless and is trying to find some meaning or mooring in her life through the usual avenues: dating, a possible dream job, etc. The only bright spot in her life, as well as the one person who might be holding her back, is Silas, her friend and former lover from college, who has since spiraled and dies after a disastrous intervention. Desperate to connect with Silas one last time, Erin and her friends use an experimental drug called Ghost that supposedly connects you with your dear, departed loved ones. But be careful when you call out to the dead: you never know who might answer. And Erin is going to find that out the hard way.
What a book!
Ghost Eaters is an eerie novel that gives a chilling vision of not just what the afterlife could be like, but what might happen when you try to interact with the afterlife. Personally, I feel like anyone who reads this book will shudder at this depiction and hope whatever's after death won't be the same as in Ghost Eaters. Especially given the gruesome descriptions of the ghosts who are hungry for life and will go to disgusting means to get to it.
I also liked how effortlessly thematic the novel is. By another author, the book might hit you over the head with its ideas, but here it's woven in quite well. The main themes are about addiction, both addiction to drugs, addiction to certain people, and addiction to connection. I also like how the addiction and dependence on Ghost has a very religious, cult-like air to it, especially towards the end of the book. In fact, one could make an argument that the relationship between a cult and its adherents can be an addiction, and that's shown quite well here.
And speaking of which, Silas is kind of like a cult leader himself in the style of Charles Manson. He has this ability to make everybody around him feel special and loved, and they become hooked on that. It's to the point even when they know they should drop him and later, when he dies, he still exerts a significant hold on their life.
I did have some issues with the story, however. Erin and her friends, for example, are not very likable. I think part of it is that they're all so adrift, are barely able to live on their own, have no idea what they want in life and are trying to find meaning in all the wrong things (like Silas). And I know that's something that a lot of people struggle with, but I feel like I'd like these characters more if they all got some much-needed therapy.
But then again, if they did that, I doubt we'd have a story, would we?
Anyway, Ghost Eaters by Clay McLeod Chapman is one of the best books I've read this year (a small number, given my reading pace, but you get the idea). On a scale of 1 to 5, I'm giving this novel a 4.4 out of 5. I personally still like the author's other novel, Whisper Down the Lane (see my review of that here), more, but I dig this book too. And I bet, with the right director and not too much of a reliance on CGI, it might make for a terrifying supernatural horror film. Give it a read and see for yourself.
Also, I feel like Ghost Eaters and the new Hellraiser film would make better tools to get kids from taking drugs than anything the DARE program ever came up with. Both deal with addiction and are frightening enough to make young people associate drugs with being plagued by the supernatural. "Hey kids! You want to do illegal substances? Be careful! You might get on the radar of interdimensional sadomasochistic demons or wandering ghosts hungry for life. Don't believe me? Check out this horror novel and movie and see for yourself!"
Someone tell me I'm not the only person who's thought that.