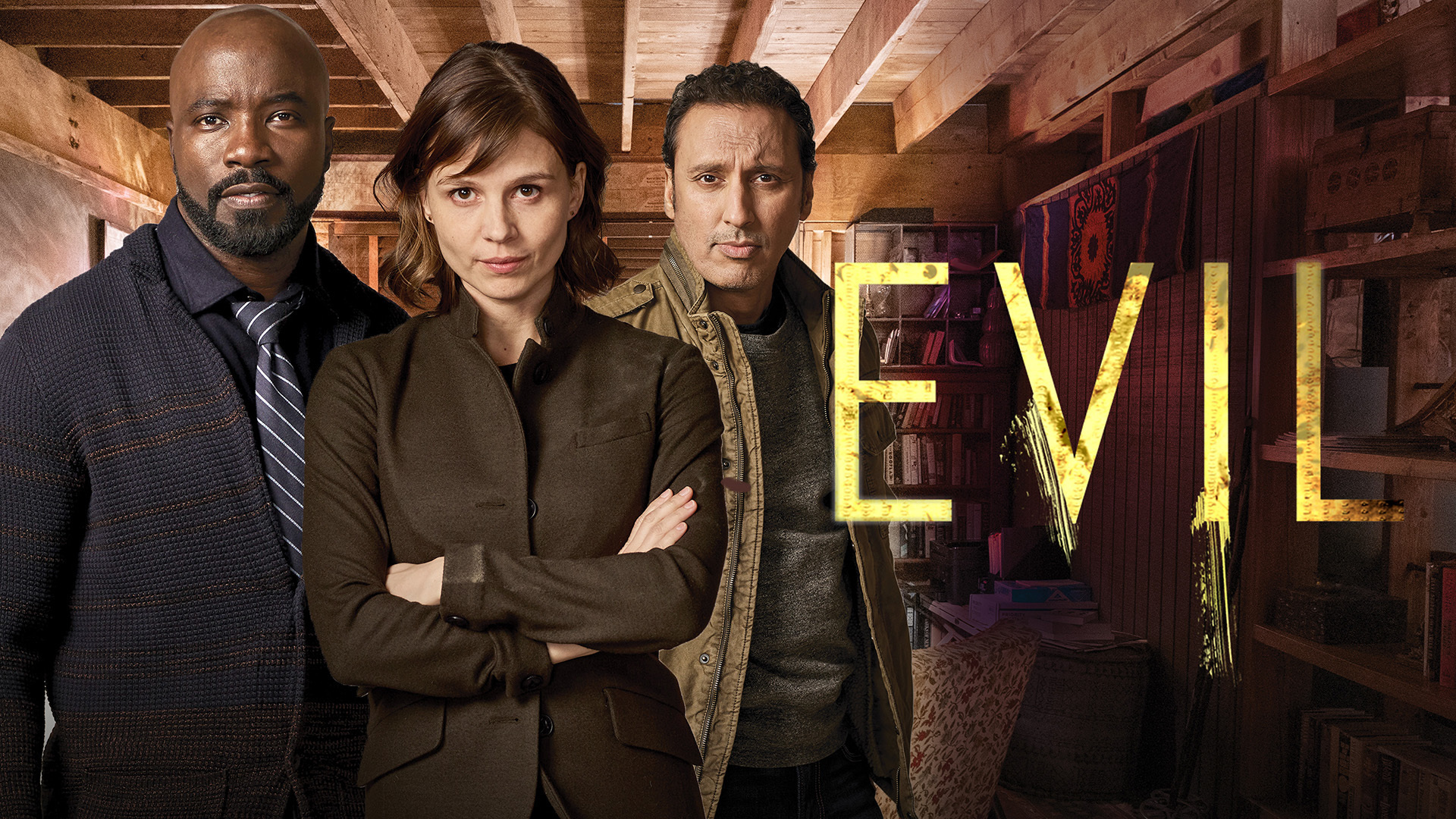 So CBS is known more for raunchy family-based comedies and police procedurals with plenty of light and color. Outside of Supergirl, which got moved to CW, it's not well known for speculative fiction type shows, at least not these days. And no, Star Trek: Discovery and The Twilight Zone reboot don't count, that's CBS All Access, which is another bill if you want to watch those shows. Anyway, Evil is outside of CBS's normal wheelhouse, but it's the kind of thing I love, so obviously I'd check it out. Of course, it's on after I go to bed, so I check it out and review it the next day. Such is life, isn't it?
Evil follows Dr. Kristen Brouchard, a forensic psychologist who gets hired on by David Acosta to help him in his assessment business. Basically, he works for the Catholic Church to discover if purported instances of the supernatural, such as miracles or demonic possession, are real. He's a believer, she isn't. But either way, they're going to be walking a very fine line. Not just between the worlds of the physical and the supernatural, if that exists, but between that of good and evil.
So I'll start off that the setup of this show is intriguing. It takes its time to play with our expectations. Are we dealing with actual demonic forces? Or is the evil in the title that of human evil? I feel that this is going to be an ongoing question throughout the first season, and if it's done as cleverly as it was in the first episode, then I could see the first season having some decent ratings. At the very least though, there's something everyone who's watching the show, and perhaps who's in the show, can agree on: that evil, whatever the source in human beings, is connected and talking to each other. And it may take a lot to stop others from encouraging evil acts in each other.
The cast is also pretty decent. Mike Colter, fresh off of Luke Cage (RIP, Marvel Netflix), plays David Acosta as this enigmatic kind of guy, wrapped up in twenty mysteries we've yet to pierce. He's totally fine with his coworkers not believing in the same stuff he does, though I wonder if that will change in later episodes. At the very least, this character is holding more cards than we've seen. As for Dr. Kristen Brouchard, you get the sense that she's trying her best. She's fighting an uphill battle to make her life work, raising four daughters while her husband works abroad and dealing with loan sharks. Her one rock is her belief in science, which are going to be shaken a lot in this show.
Oh, and Aasif Mandvi is in this show as Acosta's equipment/technical guy. I love that guy. He was always one of my favorite correspondents on The Daily Show when I watched that, so it's cool to see him pop up here. Just thought I'd mention that.
If I have one gripe about this series, for those looking for a more Exorcism of Emily Rose-type story, where eventually the supernatural is confirmed, this show may you leave you disappointed. That being said, they're going to play with the supernatural-or-not question for a little while longer. Though obviously, they'll have to come to a conclusion by the end of the first season. And what that conclusion is will determine who continues watching this show.
So yeah, this show could go a couple different ways in terms of story and how long it lasts. But I'm at least willing to give it a go.
On a scale of 1 to 5, I'll give the first episode of 4. Great setup and dramatic storytelling. I'll be interested to see how it goes.
Until next time, my Followers of Fear, pleasant nightmares.