My friend Kat Impossible of Life and Other Disasters tagged me (and anyone with an interest) for this Harry Potter-themed tag. Seeing as Harry Potter is the reason I became a writer, and Harry's 38th birthday is today (that's right, he'd be 38 years old if he were a real person. Let that sink in for a moment), I figured it only made sense to do it and spread the word. Thus, here we are.
So Alohamora, on we go. Let's get this thing started.
What is your blood status?
On the one hand, I get why this question is here. But on the other hand, it feels so wrong to ask a question based on how "pure" your blood is. We all know that pure-blood families just destroy all records of the members who intermarry. And how are they so sure none of their relatives intermarried with Muggles prior to blood-status becoming such a thing (Salazaar Slytherin was considered an outlier in his day, after all)?
Anyway, Kat had two tests to determine this (click here and here to try them out). I got pure-blood on the first one and half-blood on the second. I flipped a coin, and got heads, which is pure-blood. I guess my theory that my mother's side of the family is related to Moaning Myrtle wasn't so spot on after all (yeah, that's a thing).
What wand chose you?
According to Pottermore, my wand is ten and three-fourth inches, laurel wood, unicorn core, and very flexible and swishy. According to the site, that means my wand's magical performance is consistent and decent, hates laziness, and very adaptable to my needs. I have to say, I kind of like that.
Did you take a cat, an owl or a toad with you?
Cat, of course. As cool as owls are, I'm not very fond of birds, and besides, the school has plenty of owls. And we all know that toads are boring and that only losers get them. So obviously, we go for cats…which in the Wizarding World, tend to be more intelligent and great judges of characters than other cats, so I guess that works very well for me.
Now what to name my magical kitty? A difficult question if ever I've heard one. I guess it depends on what kitty I get.
Where did the Sorting Hat put you?
Slytherin, according to Pottermore. I was shocked when I first found out, but I guess it makes sense. I mean, one of my nicknames is the Pale Dark Lord, and I have to be at least a little bit evil and ambitious to write horror like I do. Of course, when I told my mom, who is a huge Potterhead, she nearly disowned me right there and then over the phone. And my sisters were almost afraid to associate with me. But they've come around since then. My mom even bought me a Slytherin shirt when she went to Harry Potter World in Florida a few years ago. It's one of my favorite shirts ever. And last year in Boston, I bought a Slytherin tie from an HP-themed shop. I love wearing it to work and when people there notice it.
What house did you want to be put in?
Gryffindor, I think. Everyone wants to be in Harry's house, after all. And if not that, Ravenclaw, because I read a lot and like to think of myself as intelligent. However, I'm glad I went to Slytherin in the end. Like I said, it makes a whole ton of sense. And besides, I do a great Draco Malfoy impression when I take off my glasses.
What are your favorite and least favorite lessons?
Ooh, tough choices considering I've only heard Harry's experiences with his classes to judge by. Though if I had to guess, I probably would enjoy Potions the most. Unlike Chemistry, where you had to understand how molecules and acids and bases interact, Potions is very much like cooking, except without food. And to use a bad joke, I can be a wizard in the kitchen sometimes (my friend and colleague Joleene Naylor can attest to that). So I think I'd excel at that. I might even take up potion-making as a hobby.
As for least favorite, I'd have to go with Arithmancy. Math-based magic does not sound like a lot of fun, and math has never been my favorite subject to begin with. I'm actually surprised that Hermione likes it, as in both real life and in the Wizarding World, it's used to predict the future. Then again, numbers and patterns are used by economists and college professors all the time to predict economic trends and presidential elections, so I guess Hermione likes it because it actually produces results, unlike standard Divination.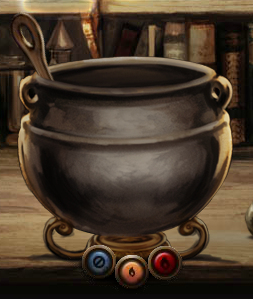 What is your Patronus?
I'm a dolphin, apparently (which also means that's what I'd turn into if I were an Animagus). Makes sense, as I'm a very fun-loving and excitable person. Though I'm not very fond of swimming, truth be told.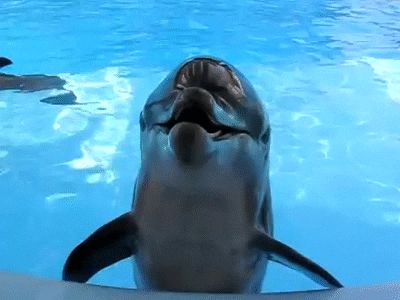 What does your boggart look like?
Rejection by people I love. I have this ongoing anxiety that something I say or do might cause people to hate me and not want to associate with me. A boggart turning into people I know saying they want nothing more to do with me and pointing out all my flaws would be a nightmare. As for what I'd turn it into, I think I'd have it turn into a performance the musical The Book of Mormon. That musical is hysterical, and forcing the boggart to become that would be such fun (see this video from the Tonys a few years ago just to get an idea of how funny this boggart would be).
Either that, or Tom Ellis playing Lucifer, because I can't be scared of that devil. I'd just melt into his arms…
I'm sorry, I was drooling for a second. What were we talking about?
Do you partake in any magical hobbies or school sports?
Probably. As I said earlier, I'd probably enjoy making Potions, so I would definitely be part of the Potions Club. I'm not much of a sports player, so I don't think I'd be on a Quidditch team, but I might enjoy flying for fun (in fact, is there a club for that?). Surprisingly, I don't know if I would be a writer if I were a wizard. Except for the Tales of Beedle the Bard, a comic book about a mad Muggle, and everything by Gilderoy Lockhart (burn!), there's not much evidence of fiction existing in the Wizarding World. There are plenty of non-fiction books mentioned in the series, but very little fiction.
Perhaps I might still be a writer, though. I'd just adjust my stories to be horror stories set in the Wizarding World, possibly dealing with entities that ordinary wizards can't handle or Dark Wizards. But again, I don't know. I guess it would depend on what forces shape my life while I'm at Hogwarts and then what happens afterward.
Where would you spend your spare time?
The library or the Slytherin common room. I love books, after all, and the library is a great place to read and study. And who doesn't hang out in a common room? Oh, and wherever I could go to brew a potion. I have a feeling I'll be using my cauldron quite a bit, so I'll need a place where I can work without having to worry about the smell of cooking magic liquids.
What would you most likely get detention for?
Given what I got detention for in high school, either having late homework assignments or being too talkative. That last one has gotten me into trouble more than once in the past, though I'm better at controlling it nowadays.
What career do you want after graduating Hogwarts?
Well, if there is a Wizarding tradition of fiction, I could see myself going into that. Though seeing as writing probably doesn't make that much money, even in the Wizarding World, I could see myself becoming either a Ministry official, or a Potioneer. Both of those would probably suit me very well.
I TAG…
Anyone who wants to do this tag! I mean, it is a lot of fun, so why shouldn't you? Just make sure to link back to me when you do.
Well, that's all for now, my Followers of Fear. I hope you had as much fun reading this as I did writing this. Until next time, pleasant nightmares and GO SLYTHERIN!!!