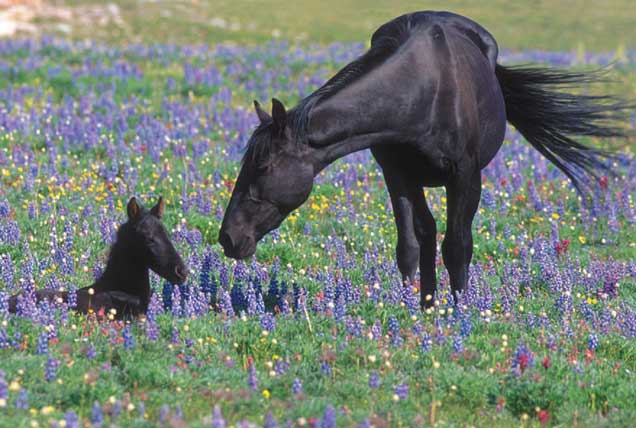 Well, I got my wish. I worked on a story that was much, much shorter than The Autopsy Kid and Mrs. Autopsy. This one is called The Black Foals (though previously I was thinking of going with The Foals or The Horses), and if the name doesn't give it away, this story is about horses. If I tried to be any more specific than that, it'll give away too much. Suffice to say, it was nice to return to something a bit on the unnatural side after writing a long novella steeped in human-based horror. And whoo-boy, was this story different from others I've written in the past.
Okay, I may say that about most of my stories, but a) shouldn't all writers in my genre set to make each story different, lest we grow repetitive and not very scary? And b) this really was a different one. For one thing, I didn't jump into the horror right away. Instead, I slowly built up the horror, which is something I don't usually do. For another, I definitely leaned more into the psychological aspect of the story, reserving the gore and true horror for the last scene. Whether or not I did a good job with the build-up and the psychological horror is up for debate.
In any case, this story's at forty-five pages and 10,089 words long, so it's the length of a novelette. I may try to make it shorter in subsequent drafts, or I may lengthen it. I'll have to see what a beta reader or two thinks it's best.
But I think it's a good start. A decent attempt at a psychological horror, and a decent attempt to make a story that'll do for horses what Jaws did for sharks. Perhaps I might get it published somewhere, there are a few magazines and anthologies that accept stories of that length. We'll see what happens.
In the meantime, I may take a break from writing anything new until I hear back from Castrum Press about Rose. They said I should be hearing from them soon, so now's a good time to just take a break from any new stories. Or old ones, too: editing takes time, you know.
Of course, you'll still see me around. I've got another post on the horizon, so you should keep an eye out for that.
Until next time, my Followers of Fear, pleasant nightmares!