It's a quarter past two in the morning, I'm very tired and have no idea why I do this to myself, and thank God Almighty I don't have work tomorrow morning, or I'd be one hot wreck. But anyway, good news! After over a month of hard work, I've just finished a new novella, which is both my first new story of 2019, and as my most disturbing story yet.
"The Autopsy Kid and Mrs. Autopsy" (wow, talk about a title) is a piece of human-based horror al a Misery and The Girl Next Door. It follows a young girl living in France who becomes entangled with a very disturbed young man after she's caught shoplifting by said young man. It's a really dark and gruesome story, with plenty of viscera and a very disturbed villain to boot. And as I said above, it's probably my most disturbing story yet (and Snake included a scene where a dude got impaled in the most painful way possible). There were points during the writing process where I got a little uncomfortable, which says something about the story and how potential readers might react.
Still, it's a first draft, so it's going to take a lot of work before it's ready for publication. And that's even if I can get it published somewhere. Besides its length, this is, as I said, pretty dark stuff. Granted, human-based horror is usually very dark and requires a certain kind of nerve to get through it (everyone remembers the hobbling scene from Misery, right?). But this story? I'm sure plenty of editors would want me to censor some of the stuff that goes on in this one.
Not to mention the villain shares some similarities with another villain I've created that'll be coming out at some point. But I'm less worried about this problem. I mean, if Criminal Minds can get away with variations of the same villains over and over again, eleven years in a row, why can't I have similar villains every now and then?
Well, with any luck, I'm sure I could get it published in a short story collection, either one I put out myself or with a publishing press. I'm sure with the right marketing and a bit of editing and luck, this story could be well-received and give more than a few people nightmares.
Anyway, I'm just glad to get this story done. I had a feeling I'd get it done this weekend, but I had no idea I'd be up well past midnight working on it, adding about seven thousand words in the past twenty-four hours (a new record for me) before I could sit back and say that the first draft is finished.. I'm pretty sure I looked something like this during the past couple of hours.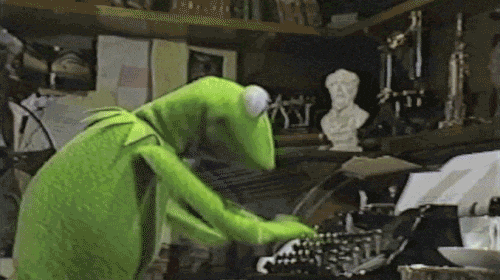 I hear we even look a little alike. At least, I do in one of my many terrible visages.
Anyway, today's writing brings the total page and word count to 164 pages and 48,581 words. Not exactly the longest I've ever written, but still quite a bit. And enough to leave me really exhausted right now.
Anyway, I can't even imagine editing this behemoth right now. Pretty sure I'm going to leave it alone for a long while so that when I do return to it, I can look at it with fresh eyes. And in the meantime, I'm going to head to bed and sleep as late as I can. In the morning, I'll likely have a celebratory movie marathon with low-calorie ice cream and hot tea. And if I do any more stories before I have to work on Rose again, it's going to be something much, much shorter.
So until next time my Followers of Fear, good night and pleasant nightmares.