Okay, not actually in 3D, this is a blog, after all. However, I need to give these posts a snappy title if I'm going to keep recommending them, so here we go. Anyway, I've got some new anime I'd like to recommend to you, so let's get to it.
And if you would like to read my previous two recommendation posts, here's Post Number One and Post Number Two.
Astra: Lost in Space
Set in the far future, when humanity has started exploring other planets, a bunch of teenagers and one ten-year-old are sent on a survival retreat to an uninhabited planet. Unfortunately, their camping trip goes awry when a portal appears out of nowhere and sends them millions of light years across the galaxy, into the vast reaches of space. Luckily though, they find a spaceship that they can navigate back home. Along the way, they explore strange planets, grow as people and as a family, and try to find out how they ended up transported across space in the first place.
So yeah, this is kind of like Lost in Space, but animated and with teenagers. Hell, the show's in the title! The balance between humor, mystery, and storytelling is a little off at times, but the characters are lovable and the mystery elements to the story are compelling. If you're looking for sci-fi with characters you want to hug and a bit of suspense to boot, this might be up your alley.
Serial Experiments Lain
After one of her classmates commits suicide, fourteen-year-old Lain Iwakura finds out said classmate has since been sending messages to others in her class over the Wired, a super-advanced version of the Internet that uses virtual reality. She starts exploring the Wired, and finds herself going down the rabbit hole as she deals with secret societies, and an entity claiming to be the God of the Wired. But the greatest mystery of all may be Lain herself…
Released in 1998, Serial Experiments Lain has become something of a cult phenomenon in the anime community, noted for its uncanny predictions of how the Internet would develop in the next twenty years or so and exploration of Internet culture, as well as the nature of consciousness, God, and so much more. It's a story more focused on philosophical/psychological exploration rather than traditional storytelling, so its slow pace might turn off some viewers. But if you stick with it, you may find yourself having your mind blown by this hard-to-define series.
Fruits Basket (2019)
Technically speaking, there are two adaptations of this award-winning manga, one from 2001 and one from last year. However, the more recent version has gorgeous animation, adheres more closely to the original manga, and plans to tell the whole story.
Fruits Basket follows Tohru Honda, a cheerful girl who finds herself homeless after her mother's death. She ends up moving in with the Sohmas, a large and influential family whose members Tohru is classmates with. However, she finds something crazy out about her new home: certain members of the Sohma family can turn into animals of the Chinese zodiac when hugged by a member of the opposite sex or under great stress. Thus Tohru's life becomes more wonderful and stranger than she ever dreamed.
So while the premise sounds whimsical enough, and there are plenty of sweet and funny moments, this series can get really dark. A lot of the characters have suffered from their ability to transform into animals, and there's a lot of exploration of social isolation, anxiety and depression, self-loathing and self-fulfilling prophecies, broken homes and gang violence, and more. How the show balances all that so well with humor and lighter moments, I have no idea, but there you go.
Anyway, this is a great series to make you laugh and cry, with a literal menagerie of characters for you to fall in love with. The second season is due out next month, so I hope you'll check it out in the meantime.
Overlord
This one's become my new favorite anime, and I've watched it five or six times since I first watched it back in September. Yeah, you read that right. And I'm about to tell you why.
A gamer's favorite virtual reality game is about to shut down forever. Having met all his friends and received his best memories in that game, he decides to stay in the game until the servers shut down. However, when the game shuts down, he finds himself transported to a world where magic and monsters exists. As his video game avatar. Which so happens to be a powerful undead skeleton and commander of an entire monstrous army, the great Ainz Ooal Gown. Wanting to understand his new world and find out how he got there, Ainz embraces his new form and sets out on a conquest of this strange new world.
Considered one of the best isekai stories out there,* Overlord has a lot to offer. Not only is it the sort of story where you get to root for a super-powerful villain, but the ensemble cast are a lot of fun and the story manages to keep you interested by flipping point of views and coming up with new scenarios to challenge the main character Ainz, who's basically an office drone who's suddenly found himself in the position of a god-king and is basically just trying to fake it till he makes it. And let's face it, it's just awesome to see an overpowered character as an antihero sometimes (check out this clip if you don't believe me).
Ascendance of a Bookworm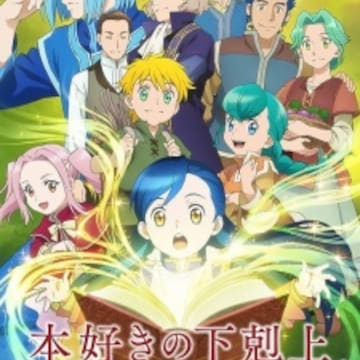 A young woman gets her dream job of becoming a librarian and getting to read books all day. But then she dies and gets reincarnated into a fantasy universe. Cool, right? Wrong. First off, she's now a sickly little girl named Myne, and can't walk down a set of stairs without getting a fever. Second, she lives in a world where books are expensive and are usually the property of the nobility, which she is not. Despite all that, Myne is determined to get books one way or another, and she won't let small things like illiteracy or a frail body get in her way!
As far as isekai anime go, this is a bit of an outlier. Normally, isekai protagonists have some great advantage and go out to do amazing things. However, Myne's only advantages are her own brains and experience, and it's a story about an ordinary girl (sort of) trying to live an ordinary life with her friends and new family, not anything like saving the world or conquering nations. Add in a mellow pace and beloved characters, and you find yourself falling in love with these characters. If you want a fantasy story not focused on anything major like politics or war and lovable characters just trying to eke out a normal life, this might be the anime for you.
My Bride is a Mermaid
Nagasumi Michishio nearly drowns, but is saved by a mermaid. But now, by mermaid law, he has to marry the mermaid, a girl his own age named Sun Seto. Whose overprotective father is the head of a merfolk yakuza family. And he's not ready for his little girl to go off and marry, let alone marry a weak human. Hijinks ensue.
This beloved romantic comedy is sure to make anyone laugh. It brings together a whole bunch of kooky characters with a zany concept, and makes the most of it. For a while, it was my favorite anime in high school, and there's a reason it's endured for over ten years since it aired. If you want a zany comedy with endearing characters and the ability to surprise you at least once or twice an episode, this may be the anime for you.
Welcome to Demon School, Iruma-kun!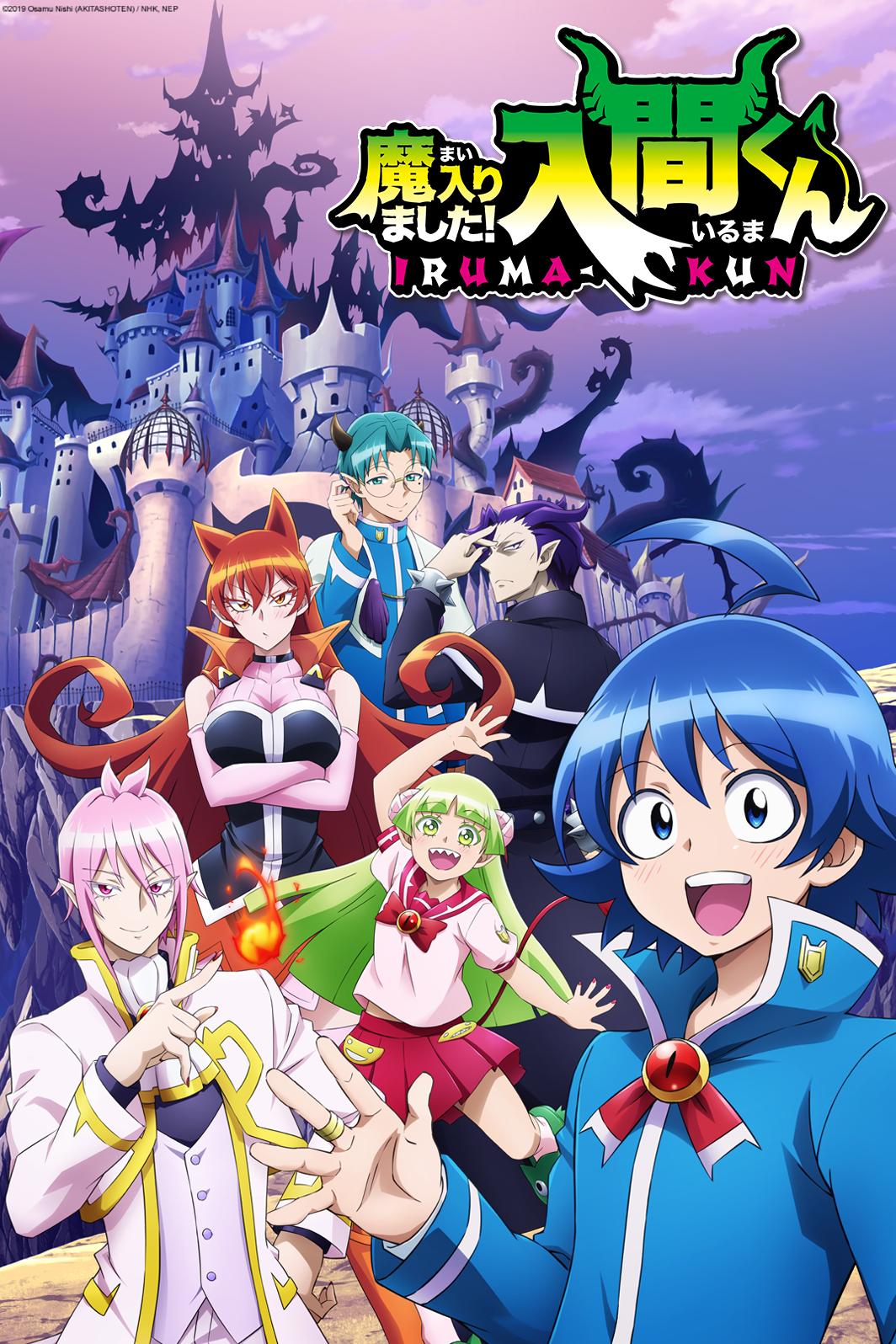 Iruma Suzuki is a 14-year-old pushover who's been forced to work since he was a small child in order to get by. One day, his scumbag parents sell his soul to a demon. The demon, Sullivan, takes Iruma to the nether realms…and adopts him as his grandson! He then enrolls in the elite demon school, Babyls, where if he's discovered to be human, he'll be eaten. Hijinks ensue.
This is one of my new favorite anime. It oozes year-round Halloween spirit in every frame of animation, with eyeballs and skulls and spider webs (oh my!) everywhere. Not only that, but these characters are lovable and quirky in their own way, from sweet and pure but easily swayed Iruma, to the beloved and adoring Asmodeus Alice, and the hilarious Clara Valac (think me, but a demoness with twice as much energy and randomness as me). Watching them grow and become friends in a strange world is a lot of fun, as well as hella funny. If you want a series full of demons, Halloween, and utter hilarity and fun, I can't recommend this one enough.
Toilet-Bound Hanako-kun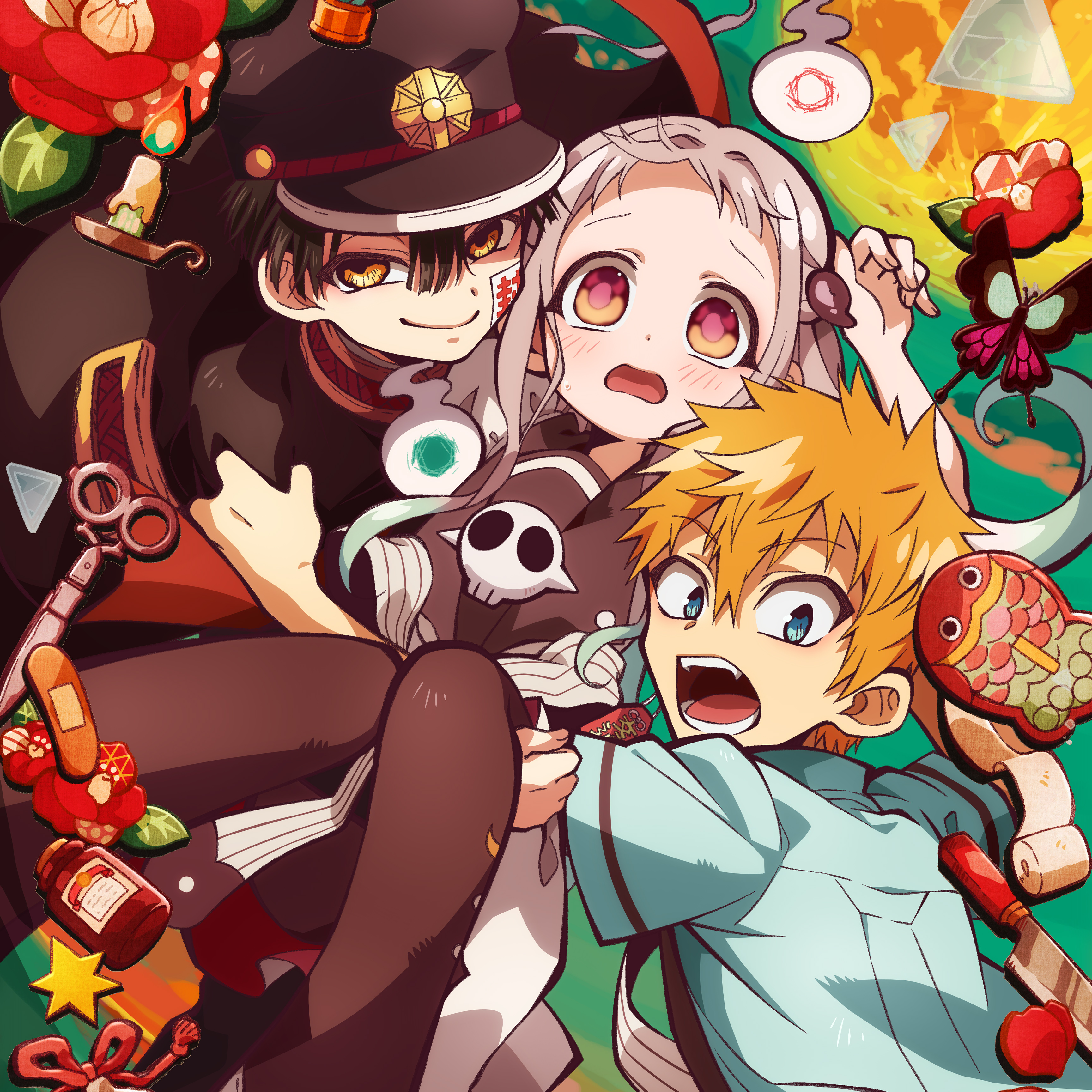 A high schooler goes into a bathroom to summon the spirit Hanako-san,** who is supposed to grant a wish to anyone who summons them. Instead of a little girl in a red dress, she gets a devilish boy in an old boy's uniform, Hanako-kun. He'll grant her wish…but in exchange, she'll have to be his assistant in keeping her school's spirits in line. Hijinks ensue.
With a unique animation style like a webcomic and a great balance of silly humor and intrigue, Toilet-Bound Hanako-kun is one of the breakout hits of Winter 2020. If you'd like a series with funny characters, stellar animation and a bit of supernatural fun, you might enjoy this one. New episodes are airing right now, so why not go ahead and check it out?
Which anime whets your appetite? Have you seen any of these? What did you think? Let's discuss.
That's all for now, Followers of Fear. I hope to have another post or two out this week. Also, wanted to let you know I'm writing like crazy these days. I should have an announcement of a new first draft before too long.
Until next time, pleasant nightmares!
*If you don't remember from my first anime recommendation post, isekai is a subgenre of fantasy anime in which a normal person is transported to a magical world resembling fantasy worlds out of novels and video games, and may have features from the latter. The transported average Joe often ends up becoming some sort of hero or adventurer, going on quests and fighting monsters or exploring unknown regions. It's a popular genre of anime right now, to the point that half the new series that came out last year seemed to be isekai anime. Thankfully, I can point out some of the good ones.
**Yes, the same spirit from Japanese folklore that inspired my short story "Hannah."