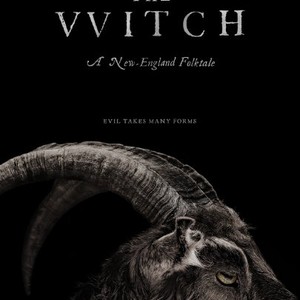 Well, I'm back at this again, with an odd film for my third outing. You see, I watched this film last July, and I even wrote a review. So why am I watching it again and making it part of the Rewatch Review series? Well, here's why:
WHAT'S IT ABOUT: A Puritan family is forced to move out into the wilderness and start a farm on the edge of a forest. There, a witch sets into motion events that will change the fate of this family, especially the teenage daughter Thomasin, forever.
WHY I DIDN'T LIKE IT: Well, I actually did like it. I gave the film a 3.8 out of 5. That's a good score. However, I went into the film with different expectations based on the title (the titular witch is actually very peripheral to the story), and I had a hard time without subtitles understanding what anyone was saying, which affected my enjoyment of the film.
WHY I REWATCHED IT: Over the past year and however many months, I've thought a bit about this film, and how my enjoyment of it was skewed by the fact that I had totally different expectations going in. I wondered if maybe, f I rewatched the film knowing what it's really about–not the witch, but the family she affects–I'd enjoy it more. So when I decided to do this series, I put this film on my list.
THOUGHTS: I guess I did enjoy it a bit more, but I wouldn't raise that 3.8 any higher.
The Witch is a good film, and I go into detail why in my review. It's faithful to the time period in all the best ways, the psychological aspects are handled very well for a first-time writer/director, and the actors are all good in their roles. With great setting and music, it's a pretty damn good horror flick. And if you watch it with the subtitles and don't get miffed by the witch only being in the film for about two or three minutes, you'll enjoy yourself thoroughly.
I did notice this time though that sometimes the lighting makes it hard to make out what's going on, though. Like seriously, I know you're in the middle of the woods, but maybe still use some lights so we can see the characters? Thank you!
JUDGMENT: My opinion doesn't change, but I'm glad I watched it the way it was meant to be watched. It's still a good movie, and if you get the chance, check it out. Just remember: subtitles! Those thick accents will puzzle you to death if you allow them to.
Well, that's all for this entry in the series. Honestly, it was shorter than I expected it to be. The next one will probably be a bit longer, at any rate. After all, I'm watching one of the first slashers ever. That's right: The Texas Chainsaw Massacre. Bring it on!