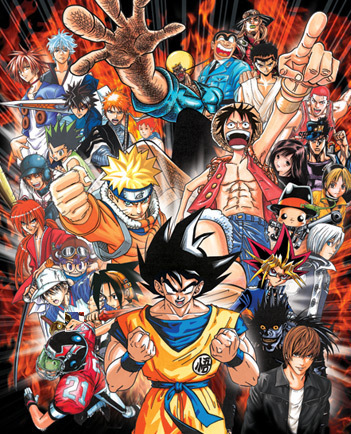 Recently, someone familiar with my writing compared some aspects of my story with anime. This, for me, was a huge compliment, because I am a hee-yuge fan of anime and manga. I've read and watched more series than I can count, and I consider some of the stories I've read over the years as having a very beneficial influence on my writing style, allowing for better storytelling and characterization. And I believe wholeheartedly that anime and manga can up the game of other fiction writers out there, even experienced ones with plenty of novels or short stories under their belts.
"But wait," I hear my readers saying, "how can silly Japanese cartoons up my writing game?" Well, my dear Followers of Fear, just like Harry Potter is more than just children's fantasy stories, and just like I'm more than a dude who enjoys scaring people silly (I actually have a growing doll/figurine collection and enjoy the ballet and the theater), don't let first impressions about the media get in the way of looking a bit deeper. Anime and manga have so much more to them than meets the eye:
1. It's an art form. We see literature as important creative works that are a reflection of and an influence on society. So is painting and illustration. But for some reason, the combination of the two mediums are never treated as highly, even when they lead to huge box office and critical success with movie adaptations. And in my opinion, that's just wrong. Creating decent literature or decent art is extremely difficult, no matter the genre or what is being portrayed. Imagine what must go into doing both well at the same time! If one is good but the other is bad, the series, comic book or animation, will suffer, so these artists are basically combining the two art forms in order to create something appealing to audiences. That is worthy of respect (especially when you consider that manga and anime don't always get to rely on characters that have lasted 80+ years and have established fanbases).
That being said…
2. There are a multitude of stories to choose from. Despite often going into very deep subject matter, comic books and animation have this reputation for being more family or child-oriented than adult-oriented. And although comic books have been recognized for their serious and mature themes and content, for the most part it's hard to find animation that, even when aimed at adults, isn't comedy or relies a lot on comedy. I can only think of one or two off the top of my head.
Anime and manga, on the other hand, span a wide multitude of genres and age ranges. Yes, some are comedic or have lots of comedy elements, but there are plenty of stories that are extremely serious or even plain portrayals of normal lives. Death Note (not the crappy American version) goes deeply into questions of whether the ends justify the means, especially in terms of curing societal ills, all while presented as a psychological cat-and-mouse thriller. Great Detective Conan (or Case Closed, as it's known in the US), has nearly a thousand chapters/episodes focusing on a kid solving murders a la Sherlock Holmes observation and deduction. With the Light tells the story of a family raising a child with autism. Tell me if any of that sounds like silly cartoons for children.
And that's just the tip of a very big iceberg. There are all sorts of stories out there, romantic to comedic to scary to inspirational to musical to educational to even some where you wonder who was mad or indecent enough to make them (I'm looking at Makura no Danshi for the former and Kodomo no Jikan for the latter. Google at your own risk). If you can think of it, there's a chance there's an anime or manga based around it.
So if you're looking for inspiration for a new story, try the Japanese. Chances are, there's a story that could inspire your next work.
3. Characterization. In Western stories, characters are often pretty much defined from the moment you meet them as good or bad guys. Within a few minutes, you not only have a pretty good idea of where they align, but how you feel about them: love, hate, support, fear, root for them to get the girl. This doesn't usually change, except perhaps if they're a twist villain revealed in the third act. Rarely do you see a character whom you aren't sure whether to love or hate, whether they're good or bad. A character who straddles the fence, in other words, and you're never sure where they stand until near the end.
Anime and manga, however, do this very well. They're very good at telling stories about characters whom you're not sure how to feel about them, because they're able to take the time with these characters and show various sides of them over the course of the episodes or chapters. Sasuke Uchiha from Naruto is a prime example: at various points he's a hero, a villain, a tragic antihero, etc. And you're never sure whether to hate him or cry for him or what (generally I don't like him, but that's just me). And even when a character isn't given this treatment, they're often given great character development. Often characters are all good with a few flaws, or all evil with a few good qualities, but anime tends to branch out. You've got protagonists who are defined by their anxieties, or heroes who do horrible things but are doing it for good reasons you even sympathize with. It ranges quite a bit, and it's done quite well.
4. And finally, it's entertaining. We all write stories for a variety of reasons, but at the core of it, we want to engage and show people a character worth following, a story worth getting into. And anime and manga do that a majority of the time. Sure, some stories do fail in that regard (looking at you, Clannad), but the vast majority have been tales that have endured the test of time and continue to pull in new audiences. Pokemon is twenty years old and Sailor Moon is twenty-five, but they still continue to entertain and even produce new content. Clearly, there's something about these mediums that pull people from around the world in far past childhood.
And any medium that can have that sort of influence is worth checking out, if you ask me. Even if it's not normally up your alley.
And that's just a few of the reasons writers should check out anime (there may be a Part 2 someday). But tell me, were there any reasons I missed? What series do you find entertaining or influential? Or do you need a recommendation on where to enter the medium? Let's discuss in the comments below.
Until next time, my Followers of Fear, pleasant nightmares.