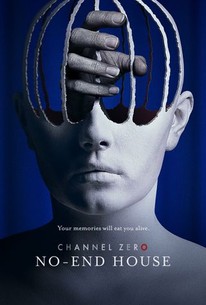 About two years ago, I binge-watched the entire first season of an anthology series called Channel Zero, this one focused on adapting popular creepypastas. The first season, Candle Cove, was terrifying enough to earn a 5 out of 5 review from me (which you can read here).
And then it took me two years to actually get around to watching season two, No End House. But over the past week, I watched it. How did it stack up? Let's find out.
Based on the story No End House by Brian Russell, this season follows Margot, a young woman still mourning the sudden passing of her father the year before. One weekend, when her friends are home from college, they invite her out to a traveling haunted attraction called No End House, a house so terrifying that it's said to change lives! They go to check it out, and find out that the house is more than a haunted attraction: it's another world and a living organism unto itself. And they are its meal.
Like the first season, No End House uses a slow-burn approach to tell its story. Combined with a surrealism rooted in normal suburbia, it makes for a compelling watch that's hard to look away. The characters are mostly nice enough to root for. My favorite was probably Seth Marlowe, played by Jeff Ward of Agents of SHIELD fame (Deke Squad forever!), who constantly surprised me with the reveals of his character. And John Carroll Lynch, who has played Twisty the Clown and Mr. Jingles in various seasons of American Horror Story, plays his character with plenty of love and pathos.
And there's quite a bit of horror played around memory, the loss of or perversion of it. It's a little chilling when you think of how memory is almost a physical, tangible thing used against the characters in this season.
That being said, the season does have its issues. The emphasis on emotional and character-driven storytelling is emphasized at the expense of the horror. There were no moments where I felt like crapping my pants or curling into a ball out of fright. Furthermore, there's a missed opportunity to lean into the horror of the surrealism, just keeping it weird rather than creepy. All this is at the expense of the horror. Whereas the first season had this constant dread of the strange and unexplained, of the mystery at the center of it and how it affected the characters and the world, there was none of it in this season.
ON the whole, I'm giving Channel Zero: No End House a 3.4 on a scale of 1 to 5. It has some great characters and ideas, as well as some freaky scenes, but it misses numerous opportunities to scare the pants off us. If you're looking for more story and character driven horror, this might be for you, but it won't give you the buzz a real scary show will.
Despite how the second season compares to the first, I'll probably still check out season three at some point. Likely within two years, though.
That's all for now, my Followers of Fear. I've got a busy weekend ahead of me, but I'll try to check in with something by Monday evening at the latest.
Until next time, stay safe, pleasant nightmares, and if you go to a haunted attraction but you can't find anyone running the place, signing waivers, or paying/taking money…maybe reconsider stepping inside.