Well, here's something I didn't think I'd get to until it became apparent in the past couple of months that it was going to happen. Rami Ungar the Writer has reached the 50,000 views milestone! After five months, four months, and seven days, we've reached 50K! Followers of Fear, find a partner and do the dance of joy!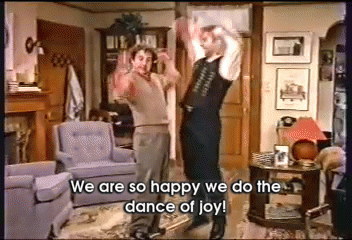 I've always wanted to do that.
I say this every time I reach a milestone, but I'm incredibly grateful that you guys continue to come back every time I publish a post. For the first two years or so of this blog, there were times where I wouldn't get views on my blog for several days, and then get a bump of maybe one or two, and then that would be it for a while. Likes and comments were even rarer, and followers came in at a trickle. It made me wonder if I wasting time with a blog, trying to build an audience that way.
But somehow, I persevered. And you guys kept appearing, and a good chunk of you kept coming back. Slowly, views and likes and comments started increasing. There were even times when I'd get spikes into the hundreds or even the thousands! And then the followers started to rise, and I started calling you my Followers of Fear, and none of you seemed to care one way or another on that one, so I kept going with it. And then a couple of months ago I got to the five-thousand likes milestone, and I was like, "Holy crap, I might get another one soon!" And now it's come to pass.
Thank you, Followers of Fear. I really appreciate the continued patronage and support. I hope you continue to support me for the next fifty-thousand years (hopefully it won't take another five years to get there) as I work on becoming a great horror novelist.
And on that subject, there are a couple more announcements I'd like to make while I still have your attention.
Firstly, look at your search bar. You've probably noticed, but this site is no longer ramiungarthewriter.wordpress.com, but just ramiungarthewriter.com. Yep, I updated my blog into a full website. Why did I do this? Well, beyond the fact that web address is a bit of mouthful and shortening it makes it a bit less of a mouthful, I'm trying a bunch of new strategies and tactics to increase readership both on my blog and with my books. One of those tactics is to upgrade to a full website, which gives me a couple of distinct benefits. One is now I have an official author email address. That's right, you can now email me! With a lot of successful authors, I've noticed that they have more than a few ways to be interactive with their fanbases, so now I have one more.
So if you want to email me about my books, or a blog post or something, you can write me at ramiungar@ramiungarthewriter.com. I don't know how often I'll check my mailbox or how quickly I'll get back to you, but it's something I'm devoting effort too.
On a related note, I'm also setting up an email newsletter. This, I hope, is where people who are interested will hear first about publications and contests and other things related to my writing career. I have a feeling that people are getting tired of seeing the latest short story being finished or the latest novel review, so I think I'll put out something separate that focuses on that, and put stuff on the blog related to the intricacies of writing and of horror, as well as the occasional post about my life or my thoughts on certain subjects.
This is all part of my New Year's Resolution, which is to be better at getting people interested in my stories and in my writing in general. Will it succeed? No idea, but at least I'm sticking with my New Year's Resolution and keeping things simple by going for an achievable goal with achievable steps. And I'm open to other tactics that could help me accomplish this. Heck, I may even try Goodreads again, if I can get a better handle on how to work that site.
That's all for now, my Followers of Fear. I've kind of rambled a bit in this post, but at least I've gotten a chance to talk about the good news and show some of the progress I've made since New Year's. Until next time!