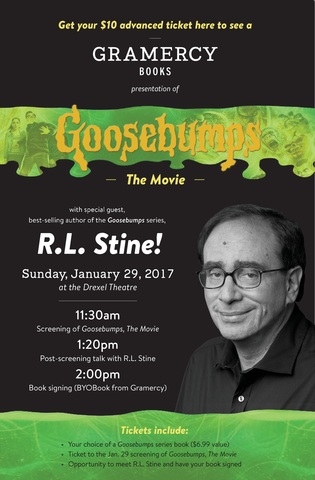 Today I ordered an Uber ride from my apartment to the Drexel Theaters in the Bexley neighborhood for a special event. And there I saw something terrifying: the poster for Tommy Wiseau's The Room. That film is horrible! I've seen clips of it, and it's painful. And apparently the theater shows the film every now and then. And people apparently come to see it. That's some dark, sadomasochistic stuff right there.
But I was really there because Gramercy Books Bexley was having a big weekend in honor of its opening, and the highlight of this opening weekend celebration was a viewing of the Goosebumps film, followed by a reading and a book signing with RL Stine himself!
Now if you don't know who RL Stine is, what rock are you living under? Well, he's the author of the popular Goosebumps children's books, which are probably the most famous horror series for kids in literature. I'd read them as a kid, well before I knew I wanted to write horror, and was probably an early influence on me. So when I visited Gramercy a couple weeks ago (they've been open for a little while now, but they had their celebration this weekend. Kind of like a belated birthday party, I guess) and saw they were hosting RL Stine, I knew I had to buy a ticket to meet him. And I bought a couple of his books too, including some of his adult fiction (did not know the guy wrote adult fiction, but I was happy to purchase a couple books from him).
Sunday came. I enjoyed the movie (see my review of the movie from 2015), and was amazed by the mix of adults who grew up with the series and kids who were reading Goosebumps twenty-five years after the first book came out (yeah, twenty-five years. Time flies, huh?). I always thought Goosebumps was a phenomenon of the 90's and early 2000's, but it's endured beyond when I stopped reading the books. Perhaps kids will be reading the Goosebumps books years and years from now, like how we read Alice in Wonderland and Anne of Green Gables over a hundred years after each book came out. I certainly wouldn't mind reading them to any kids I might have in the future.
Anyway, the film ended. We waited as the staff from Gramercy set up a podium and microphone at the front of the theater. And then Mr. Stine himself ambled down the aisle, a hunched-over over man in a dark red shirt and dark khakis with large glasses and an amiable smile. He told us about how he had used to visit the Drexel Theaters to watch cartoons and old monster movies, the titles of which he said influenced how he titled his own stories. He also told us a story about how he actually might've seen a ghost as a kid (and which he hinted very heavily he made up for us), and then read for us some stuff from his upcoming book, Slappy Birthday to You. Hearing him read it brought me back to my childhood, I tell you.
After that, we all got in line in the theater lobby to get our books signed. The line was very long, circling around the lobby, and I managed to get into it around the circle area. After about ten minutes in line or so, I finally got to the table. And the whole time I was thinking to myself, "Don't embarrass yourself, Rami. Don't embarrass yourself." His wife took my copy of Stay Out of the Basement, the book I'd decided to have Mr. Stine sign and which might've been the first Goosebumps story I ever read (I can't remember very well, I think I was six when I started reading them). He asked me my name, and I said it, though I think he heard "Robbie," given the noise of the lobby. He signed it, and then I told him what I wanted to tell him:
"I just wanted to thank you, Mr. Stine. I read your books as a kid, and now I write horror and science fiction. And I think you were an early influence of mine. I just wanted to thank you for that."
He gave me back my book with a smile. If he said anything, I can't remember what it was. Maybe "That's nice," or "You're welcome," or perhaps just "Uh-huh." I think he's heard that maybe a few times at this point in his career and that he's used to it, but I was happy to have told him.  And I was allowed to take a photo with him afterwards, which you can see here.
I left after that, got an Uber home. Overall, I was happy. I said I'd felt like a child earlier, and in a way, I was. My inner kid was there this whole afternoon, from watching the movie to hearing and finally meeting RL Stine himself, feeling wonder and exultation at getting to meet this early influence of mine. That kid is often with me, reminding me why I write scary stories and powering the imagination needed to tell these stories. And I'm glad he came out with me today.
I sadly didn't get Mr. Stine interested in reading my books, but that's okay. I was just glad I didn't embarrass myself by saying something stupid or offensive (I sometimes get a little starstruck in front of famous or powerful people, and that makes my logic circuit misfire sometimes). And it's something to aim for, you know? I'm working on finding ways to make sure more people want to read my stories, and maybe someday one of those people will be RL Stine, along with all the other authors I look up to. I just have to keep writing and working hard and maybe someday all I dream will come true.
And I have four RL Stine books on my bookshelf in the meantime to keep me occupied. Definitely feel happy about that.
Thanks to the Drexel and Gramercy Books for making my weekend. I hope you can tell what this opportunity meant to me just by reading this post. I look forward to continuing to support you both in the years to come.