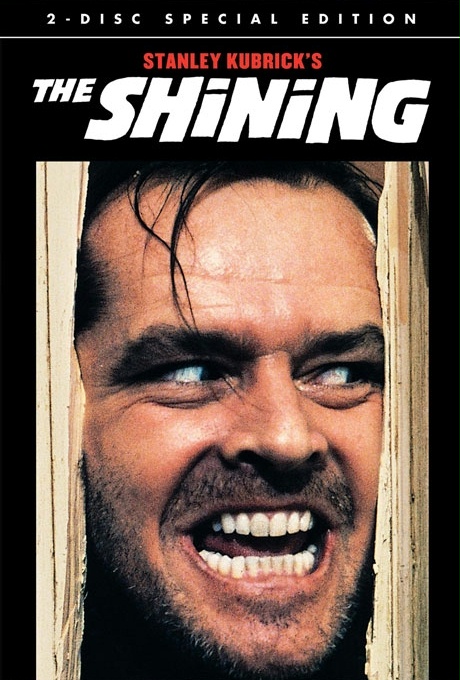 The Shining is considered one of the greatest horror films ever made, based on one Stephen King's greatest novels. It's still widely enjoyed today, has been very influential on a number of films and filmmakers, and has led to numerous theories about its deeper meanings, ranging anywhere from the Holocaust or Native American genocides to faking the moon landing. Yet when it was released, audiences and critics didn't care for the film. Variety actually called it "a disappointment," and Stephen King himself hates this film with a passion. Director Stanley Kubrick himself has garnered controversy for overworking and even abusing cast and crew during the production of this film.
I disliked this film immensely after I saw it in middle school, which was right after I read the novel. But I've since learned a lot about the film's production and influence. And given the reasons I hated the film (see below), I'm wondering if my opinion needs a change. Let's find out.
WHAT IT'S ABOUT: The Shining follows the Torrance family, who have come to the historic Overlook Hotel to be its winter caretakers. Isolated and cut off from the world, the Hotel's supernatural side comes out to play, leading to a horrifying descent into madness and murder.
WHY I DIDN'T LIKE IT: It strayed too far from the source material. Not kidding, I hated the film simply because of how much changed from book to movie, to the point it drove out all my other reactions to the film (I can be a real purist sometimes). I actually preferred the 1997 television miniseries based on the movie because it was more faithful to the book,* and no other reason.
WHY I'M REWATCHING IT: Well, you hear so much about how great the film is, and you learn a bit about its production and legacy, and you realize how much a movie differs from its source material isn't always a bad thing. Kind of warrants rewatching it.
THOUGHTS: That was a rather unsettling slow-burner, wasn't it?
I'll give the film this, it knows how to set up a creepy atmosphere with great visuals and sound. For one thing, the hotel is so distinct that it's a character all onto itself. But it's the way that Kubrick films the hotel and the characters in it that's great. The whole film is shot with a wide-angle lens, which means we always see the characters alone in these vast spaces. On top of that, when close-ups are done, the wide-angle lens distorts the characters' faces, giving the film a sense of surrealism and unreality. Add in the soundtrack, which sounds more like several clashing soundtracks playing at once. Heartbeats, eerie chanting, electronic music, symphonic pieces, all playing at once. It is creepy as hell.
I also like the reveals of scares. The camera always focus on the characters' reactions to a scare before they show the scare. We see Wendy's reaction to what Jack has been writing before we actually see it. We see Danny's reaction to the little girls before the little girls are actually shown. That's not something normally done in horror.
And finally, the film takes its time setting up the horror. It doesn't rush in to showing us the gruesome haunting nature of the Overlook, but gives us time to see how isolated the characters are before introducing elements to show how their insanity is growing/the hotel is alive. It's pretty effective.
However, I did have some issues with the movie. For one, the actors and the characters they portray. I didn't care for either, really. Jack Nicholson is pretty good at playing a madman, but in my experience, that's all his performances, and there's not much transition between normal Jack Torrance to insane Jack Torrance. Shelley Duvall as Wendy…I don't know what it was, but I just got annoyed with her every time she was on screen. And Danny Lloyd as Danny (ha!) was passable, but let's face it, the character in the movie isn't as fleshed out or as deep as he is in the movie. You could change the actor out, and it wouldn't make that much difference, because Danny in the movie is very flat.
On top of that, I wasn't ever that scared by the film. True, seeing Jack go after his wife and son with an ax is pretty threatening, but he doesn't actually hurt them or get close to doing so. And while the film is good at keeping that creepy atmosphere going, it never truly escalates to the point where I feel myself shift from terror.
And like I said, the novel is phenomenal. Was it really that necessary to make so many changes from the source material? Also, what's with that photo in the last shot? Was Jack reincarnated from a previous caretaker? Did he travel through time? I don't get it! Explain movie! Explain!
FINAL JUDGMENT: I have a feeling this opinion is going to rile some people. On a scale of 1 to 5, I'm giving The Shining a 3.5. It's creepy and visually creative, but the actors/characters aren't that great, and the lack of terror, unexplained final shot, and important changes from the source material are issues that detract from my viewing.
Sad to say, it's just not a film for me.
Well, at least I got that film out of the way. And with The Shining watched, I only have two films to go. Though I have a feeling this next one might be painful to watch…
Until next time, Followers of Fear, pleasant nightmares.
*And now I may have to get that miniseries again just to get a fresh opinion (Rewatch series 2?). And I'll have to rewatch Room 237, the documentary on The Shining movie and people's interpretations of it. And maybe reread the book? It's been at least a decade, so I don't remember it that well. And I should really get to reading Doctor Sleep, the sequel to The Shining. Especially since a movie version's on the way.
I have a lot of work ahead of me.