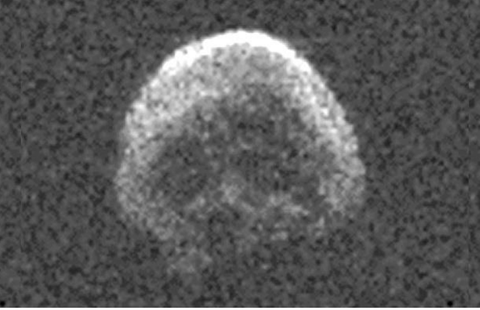 I've mentioned things like "Lovecraftian horror' or "cosmic horror" before on this blog, but I've never really gone into what those terms mean. And given that someone on the Internet is probably wondering what those terms mean and I need a break from trying to figure out how to end a short story, I thought I'd take a moment to look over what it means when horror fans call something "cosmic horror."
I actually summed up cosmic horror pretty well last month with a little joke that I shared on my social media. Here's how it goes:
Knock knock!

Who's there?

Yog-sothoth.

Yog-sothtoth who?

Your mind couldn't handle the answer.
Now you're probably confused by that joke. But in actuality, it summarizes what cosmic horror is pretty well. Namely, there are answers and truths to questions that the human mind can't handle. And not just answers, but even beings, beings that don't fit into any sort of recognizable mythology or concept of good and evil. In this sort of horror, humanity is the equivalent of ants in the grand scheme of things, and if they come across any of the things that they shouldn't–beings of unimaginable size and power, truths that go against everything we've ever believed, abilities and technologies that seem blasphemous to human viewpoints–the very contact could kill us or drive us insane. And even if our minds survived in some recognizable state, we would be forever changed. And probably not for the better.
If you haven't grasped why that's so scary, let me use an analogy: imagine you're a farmer living in England in 1066, and a man from the year 2166* comes by and tells you that the world isn't flat, but round; that the Earth flies around the sun and not the other way around; and that space is a cold and mostly empty void rather than a sphere surrounded by God's Heaven and angels. Well, you'd obviously think the man from 2166 was crazy. But then he takes you back to his time, and he lives on a ship orbiting the Earth. You see the round Earth below while you float weightless in space and see the dark void beyond Earth. And things like science, gravity, etc. mean absolutely nothing to you. And everything's new and strange to you, lights too bright and shadows too dark, and the sounds you hear make no sense.
Can you start to see how this could tear at someone's mind? That someone could be afraid of this?
And that's why cosmic horror has been so popular since HP Lovecraft basically created it back in the early 20th century (which is why it's also known as Lovecraftian horror). It basically takes the old Judeo-Christian concept of good vs. evil, God versus the Devil, etc, which is essentially a closed and somewhat understandable system, and throws it wide open to a universe where there are multiple forces, none of which are easy to grasp or empathize with, let alone categorize into good vs. evil.
But how do you write it? Well, it's more than including big, powerful beings that drive people mad (though that is often a feature). They're more a vehicle for the broader theme: a sense of helplessness, that the universe is big and dark and full of awful things, that humanity is inconsequential and our dealings with the big players never lead to anything good. That, and a sense of untapped mystery can't hurt. Think the first two Alien films or a dark version of 2001: A Space Odyssey's aliens, and you might get the idea.
If you want a better grasp of cosmic horror, I'd suggest looking at some of Lovecraft's stories.** I recommend The Temple, The Call of Cthulhu, and The Dunwich Horror. I also recommend checking out other writers who use cosmic horror, including Stephen King, Guillermo del Toro, and so many more. Heck, I've got a few stories that have some cosmic horror in them. If they ever get published, I'll let you know.
Cosmic horror can be hard to wrap your mind around sometimes, but once you do, it can open you to all sorts of terrible worlds. And if you can stand what you find, perhaps you will delve deeper. Just be careful when you do. You might not be the same when you come up, after all.
Do you like cosmic horror? What cosmic horror works would you recommend to the unitiated?
*Assuming humanity lives that long, what with global warming and a rising population. You know it's true!
**If you can stomach his racism. Yeah, I love his work and contribution to horror, but I hate what he believed. If he were around today, I'd either punch him, ignore him for being an asshole, or recommend he take some anti-anxiety medication, get some therapy and maybe some exposure to other communities.