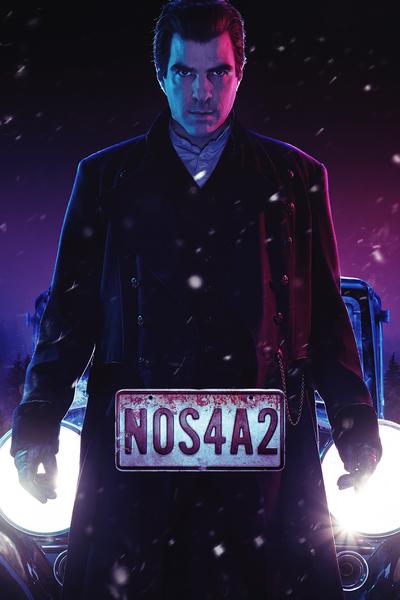 NOS4A2's TV series has been a highlight to my week during the pandemic. And given how well season one adapted the first half of the source material (see my review here), I was eager to see how well they adapted the second half, when protagonist Vic McQueen is a mom trying to protect her son Wayne from Charlie Manx.
I'm happy to report that season two is better than season one. Not only that, it's great stuff.
Eight years after her first clash with the vampiric wraith Charlie Manx, Vic is struggling to be a good mom to her son while also battling her own demons. She hopes that life will improve when it's reported that Manx is dead, but things are never that simple. Not only is Manx still alive, but he's out for revenge against Vic. And he'll use her own son Wayne to achieve that revenge if Vic isn't fast enough.
What I liked about this season was that, while adapting events from the book, they added in things that contributed to the story. This was a welcome change from the first season, where they added crap like a halfhearted love triangle and Vic partying with rich kids right before a showdown with Manx. Highlights include the episode around the original character the Hourglass, the deteriorating relationship between Manx and his assistant Bing Partridge, and scenes involving Manx's previously-unrevealed backstory.
I also liked how they fleshed out some of the side characters. Vic's partner Lou Carmody gets plenty of time to shine and show what sort of person he is, rather than the love interests from the first season, who can be summed up as "rich kid who likes a girl from the other side of the tracks" and "stoner with a heart of gold and a crush on his childhood friend." Another character who gets fleshed out is Millie, Manx's daughter and his first victim. In this season, she takes on a central role as she starts to question her world and her father. It's fascinating to see her discover so much about her father and herself throughout the show.
Add in some scares and tension, as well as some great acting and storytelling, and you get an awesome second season.
I do have some criticisms though. For one thing, while it's cool to see how Charlie Manx came to be the monster he is, there's too much emphasis on making him somewhat sympathetic. And you know what? I don't want to sympathize with Charlie Manx. He's a monstrous character who uses the kids he "rescues" while at the same time believing his own propaganda. I really don't want to sympathize with that.
Another issue is that Craig, Wayne's biological father, makes a few appearances in the latter half of the season, but it feels unfulfilled. We see him a few times, and then he's kind of forgotten. I would have liked to see him utilized a bit more at the end of the season.
On a scale of 1 to 5, I'm giving NOS4A2 season two a 4.8 out of 5. It's a freaky, thrilling ride that improves on the first season and makes revisiting this world a pleasure. There's a possibility that a third season might happen (whatever that might look like), so you might want to grab your seat belt and catch up on the series while there's still time.
That's all for now, my Followers of Fear. I'll be posting another review soon, as I bought advanced tickets to see The New Mutants in theaters. That's right, I'm going to a movie theater. And should I survive the experience, I'll hopefully have a new review for you all.
Until then, stay safe and pleasant nightmares!