If you've been with me a while, you remember a few years ago I read this awesome horror manga called Uzumaki by Junji Ito (and if you don't or weren't around then, here's the link) Since then I managed to get my hands on the movie adaptation of Uzumaki (you can read that review here), read plenty more of his works (his stories can be hit or miss, but generally I like them), and watched a couple episodes of an anime adaptation of his various short stories (which, by the way, sucked. I didn't even bother to review it, it was sooo bad). And most recently, Ito's adaptation of Mary Shelley's Frankenstein was released in the United States, along with eight previously untranslated short stories, six of which are interconnected. All in one big volume.
How could I not read and review that?
Obviously Frankenstein is based on Mary Shelley's 1818 novel, the tale of one scientist's journey to create a living being through science and the disastrous series of events that follows, along with elements from some of the movie adaptations out there.* And honestly, Ito's art is perfect for this story. I've heard he spends upwards of ten hours on illustrating a single page or frame, using ink and shadow, as well as his disinterest in making his art pretty or visually appealing in the normal sense of the phrase. I mean, look at the reveal of the Monster.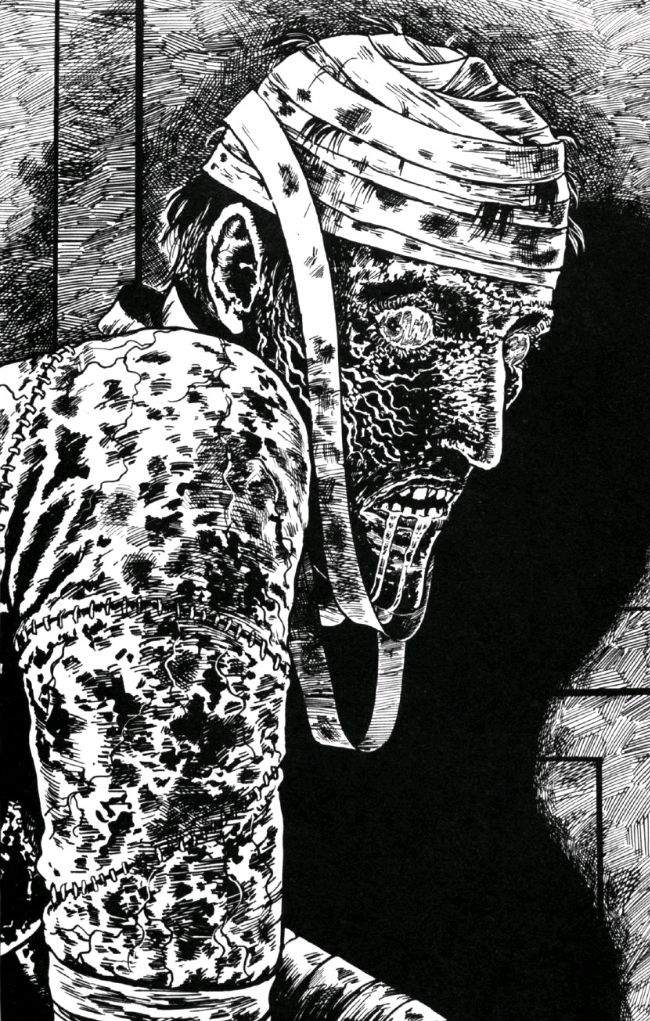 Um, yikes!
Seriously, this guy has to do more Gothic horror. His style is a natural for it. And it's a natural fit here, really allowing you to feel the horror that early audiences felt of the original novel, especially in bringing the monster to life. There's also some decent changes from the original text in order to make the story more compelling for the style of manga, such as when it comes to the creation of the Monster's Bride.
Still, there are some things that could've been improved. A couple of Ito's changes do make the story a bit slower near the end, and the translated text might be a little too close to the actual novel for a modern audience (if I wanted old-timey speak like that, I'd read Lovecraft). And honestly, I would've liked to see Ito take more liberties with the story, make it his own. His stories can be really unnerving, and I'd love to see him bring more of his style to the Frankenstein story.
The short stories added to bulk up the book (because of course they are) are decent, for the most part. Six of them follow Toru Oshikiri, a teenager living in a giant mansion by himself who starts to have a strange series of experiences, gradually leading to him making a shocking discovery about his home. Some of these stories work really well, but sometimes the build-up in them seems to lead to a letdown.
The real problems though are the unconnected stories. They don't really add anything, and one of them is definitely from the bottom of Ito's portfolio.
By itself, I give Ito's adaptation of Frankenstein a 4 out of 5. If you want a really creepy visual adaptation of the original Frankenstein story, this is definitely worth a read. With the addition of the other stories, I'd give it a 3.5. Not what I'd recommend for anyone coming to Ito's work for the first time (for that, I'd point to Uzumaki or his collection Shiver, which came out in December 2017), but for anyone familiar with his work already, this collection is probably worth checking out.
Speaking of which, Ito's got another collection, Smashed, coming out in April. I might have to check that one out and give that a review as well. Hopefully his stories Hellstar Remina and The Bully are included. I hear those are reeeeally freaky.
That's all for now, my Followers of Fear. If I don't post anything within the next couple of days, then I'd like to wish you a Merry Christmas, Happy Holidays, and Happy New Year. May Cthulhu bless us, every one (because of course I would go there). Until next time, pleasant nightmares!
*Highly recommend the 1994 adaptation with Kenneth Branagh. It's not just the most faithful adaptation of the original novel, it's got the best "bringing-the-monster-to-life" scene I've ever seen.