I'll admit I'm a few days late to this, so perhaps the news has already gotten around and this post is unnecessary. But for those of you who haven't heard, it seems that the saga that has been called Cockygate has reached its resolution. And you know what? It's really good news.
Now if you haven't heard, Cockygate got started around late April/early May in response to the actions of Faleena Hopkins (or as I prefer to call her, Lady Voldemort). Hopkins, a romance writer who wrote the "Cocker Brothers" series, tried to get a trademark on the word "cocky" when used in book or series titles. Now this word has, not surprisingly, been used in book titles well before Hopkins applied for her trademark, but that didn't stop her from applying for it, and then going after independent authors that can't afford lawsuits to either take the word "cocky" out of their book titles or take them off Amazon (seriously difficult either way you look at it) or they could face legal action.
And you wonder why I call her Lady Voldemort.
Two things happened after news of this broke: several authors and companies tried to copy Hopkins, and the majority of the author community rose up against her, with the hashtags #cockygate and #ByeFaleena (get it?) going viral within days. The Romance Writers Association started looking into legal action. Kevin Kneupper, a novelist and retired lawyer, came out of retirement to fight Hopkins on this and force her and others imitating her to back down. He was joined by romance writer Tara Crescent and Jennifer Watson, a promoter for the CockTales anthology, whom Lady Voldemort had named in a lawsuit.
And so for about three months, this thing has been going on, with lots of authors wondering if, in a world where you can trademark any single word in a title, if it's even worth it to write.* There have also been a slew of stories published with the word "cocky" in the titles in protest, and they've done quite well for themselves. And of course, everyone's been watching the courts to see how this will play out.
Well, for the past few weeks, there's been talk of both Hopkins either accepting a settlement or getting her butt handed to her by a judge. And this past week,  we got news. Hopkins agreed to an unspecified settlement and has withdrawn her trademark on the word "cocky." If you go to the US Trademark and Patent Office's website, it'll say "invalidation pending" on Hopkins's trademark.
Make no mistake, this is a victory for authors to be able to title their stories whatever they want without fear of legal repercussions. There are still plenty of imitators trying to get their own trademarks through, but Hopkins is the original, and this victory sends a message to her imitators and her opponents. So while there are still legal hurdles to get through with the former, us in the latter know that with enough people caring, we can overcome these monsters and get our stories out there without fear of being sued for using a simple word.
And as an author who could've easily been affected by this (seriously, type into Amazon the words "Snake" or "Rose." If someone did this to me, I could be in trouble), I'd like to thank Mr. Kneupper and all the authors, lawyers, Twitter activists, and readers who lent their time and energy to putting up this fight against Lady Voldemort. You did the creative community a huge favor, and I hope we can always count on your love and strength when we need to fight assholery like what we've experienced this summer.
And to Ms. Hopkins herself, I hope she's happy. The terms of the settlement aren't known, but whatever they are, I hope she's satisfied. Because this saga has led to her reputation being shredded. She set herself up as a bully and manipulative monster who went after authors without money or legal mettle. And during these three months, she's only dug herself further into a hole, calling people who use stock photos after she does "copycats" (WTF?) and alleging people who call her fans and supporters stupid are equating them with having autism (um, excuse me?). Now she's become a byword for a monster, a nasty character who tries to take advantage of other writers, of being greedy and willing to use underhanded tactics to get ahead.
And while I try not to wish bad things upon people I disagree with, I really hope that Lady Voldemort's writing career goes like the GIF below from now on.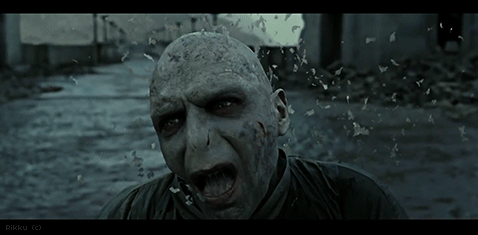 Thanks for reading, Followers of Fear. Hopefully this is the last time I ever have to mention Cockygate or Lady Voldemort ever again (though if I have to, I will). In the meantime, I wish you a good weekend and warn you to expect more from me this weekend.
Until then, pleasant nightmares!
*I mean, imagine if instead of proper titles like "Harry Potter" or "Star Wars" getting trademarks, someone could trademark a word like "the." Just "the" in any title, and it holds water. You run into all sorts of trouble from the get-go!