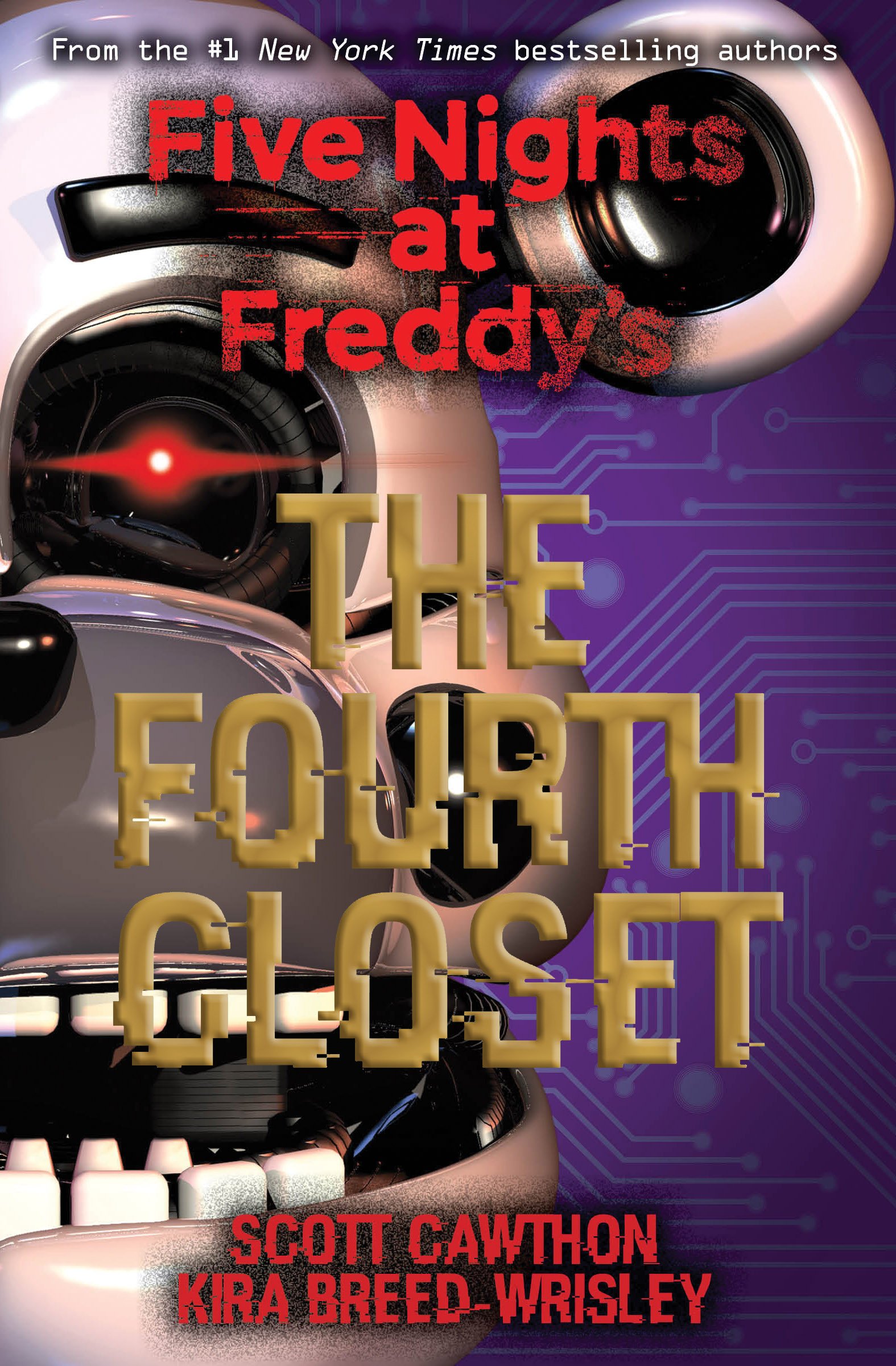 Well, here we are. The latest Five Nights at Freddy's novel, The Fourth Closet, was released late last month. I've spent the past week reading it, wondering if this is the last novel, if this book contains answers to the events of the previous books and the franchise's lore as a whole, and wondering just how this volume compares to the previous two books. Since I finished it yesterday, I've been dying to share my thoughts on it (and all without being shoved into an animatronic suit, I might add). So now that we're here, let's dive into what is likely the last FNAF novel (thought considering this novel was co-written by franchise creator Scott Cawthon, who knows if it's truly the last?).
So for those of you who don't know, Five Nights at Freddy's is a video game franchise about security guards having to deal with haunted animatronics that try to kill you during your shift at a pizza place (or in the case of the fourth game, someone's bedroom). Yeah, I know it sounds ridiculous, but it has proven immensely successful, spawning several sequels and spin-offs, three novels, a movie in development at Blumhouse Productions (which I wish would go into production already), and thousands of fan-made tribute games. Some of the reasons for the game's success is its simple yet intense gameplay, as well as its deep and mysterious lore (supposedly the events of the game were caused by a serial killer and the ghosts of his victims, but figuring out what exactly went down and when is a challenge).
I've reviewed the first two books, The Silver Eyes and The Twisted Ones, and while I wouldn't count them among my favorite horror novels, I have found them intriguing enough and similar to slasher movies in book form. And I found Twisted Ones to have improved and fixed many of the issues of Silver Eyes, making for a better novel, so I hoped The Fourth Closet would also improve. Did it? Let's see.
Fourth Closet takes place about six months after the events of Twisted Ones, and tells the story mainly from the POV of the other main characters, especially series' protagonist Charlie's love interest John. At the end of Twisted Ones, Charlie had seemingly died, but in this new volume, we see Charlie returned alive two days later. Or did she? While everyone else is convinced this Charlie is their Charlie, John isn't so sure. And when kids start disappearing in town again, like they did during the tenure of the original Freddy Fazbear's Pizzeria, John must gather the gang together again to investigate. But will searching for the truth lead to answers, or will it lead to horrors that the characters never anticipated?
So to start, this novel does show improvement over the previous two. The story and mystery is well-told, and the violence, which there is plenty of, is written to be easy to picture in our heads. I also found a number of surprises in the course of the story that were really surprises, rather than predictable twists, and elevated the story. And of course, we got to see a number of famous animatronics from the franchise, including a few of my favorites. I never mind seeing those guys. And finally, the story ends in a way that I can be satisfied with, especially if Cawthon is intending on writing a trilogy.
Of course, this novel does have some issues, as the others did. For one, the main cast is still flat as boards. Yeah, we get some insight into their thought processes in this book, but it doesn't really allow us to get to know them as characters. That, and there's a big reveal about Charlie that isn't as well-written as it could have been. So while I kind of understand what the reveal is, I'm also a little confused and could use some more information to explain things. I know, Cawthon likes to let fans guess and spin theories with this franchise, but doing the same thing in a novel can seriously backfire on you (believe me, I learned that during one of the drafts of Rose). And trust me, it backfired here.
But on the whole this novel is a decent story, and shows its writers' desire to learn from past mistakes in order to make sure any addition to the franchise is worth it. On the whole, I'm giving Five Nights at Freddy's: The Fourth Closet a 3.4 on a scale of 1 to 5. If you recall, I gave the first and second books ratings of 2.6 and 3, respectively, for an average of 3 out of 5 for the trilogy. Average as a whole, but considering the source material  is a video game franchise and that the creator isn't used to writing prose fiction, average is great. After all, under other creators, it could very well turn into the literary equivalent of the Super Mario Bros. movie. And nobody wants that!