This has been long overdue. But as promised, I am doing another post on anime I like. After all, along with horror, anime is a huge influence on me and my life as well as my writing (anyone who's read Rose can see that). So with that in mind, I thought I'd do another post recommending some anime I've enjoyed recently and that I hope other people would like to check out.
If you'd like to check out my first list, click here.
And with that in mind, let's get onto the recommendations!
Princess Tutu
At first glance, this anime seems like it's something aimed at little girls. A duck is chosen to become a human girl, and then become a magical girl named Princess Tutu, who uses the power of dance to restore a prince's lost heart. And admittedly, the first couple episodes are light-hearted and comedic. But as you continue on, it becomes clear that this is actually a dark and emotional anime about fate vs. free will. The characters soon begin to realize that there are sinister forces manipulating their lives, and it becomes a struggle not just to restore the prince's heart, but if they should restore it, as well as to find a path that allows them to control the course of their lives.
This is the sort of anime where you'll look back at the first episode after watching the last and be like, "Holy crap? Did that just happen?" It's a roller coaster, a thought-provoking anime that uses dance to create emotional struggle and to explore the idea of who controls our destiny. If you want a surprising fantasy anime using a beautiful art form to tell its story, you might enjoy Princess Tutu.
Also, this is an anime I watched as research for Toyland. Just saying.
The Helpful Fox Senko-san
An overworked and super-stressed office worker comes home one day to find a fox spirit in the form of a human girl in his apartment. This fox-girl introduces herself as Senko, and says she's here to take care of and pamper the office worker. Thus starts the office worker's new, and hopefully more relaxing, life.
At first, I was not sure what to make of this anime, or why I kept watching it. But then I had a long, exhausting, stressful day at work, and I realized the reason why I was drawn to this show. We've all had days where life has stressed us out and we want to scream to the heavens about our exhaustion. And on those days, we really wish there was someone waiting at home for us at home to take care of us and make things better. Maybe not a magical fox girl, but someone. Senko-san taps into that, and gives us a scenario like that. And rather than making us overly jealous, it actually relaxes you a bit. You relax vicariously.
If you're interested in an anime that aims to soothe you (or you're into ASMR, like I am), I highly recommend The Helpful Fox Senko-san.
Digimon Tamers
A lot of people think Digimon is a knockoff of Pokemon, but in reality they're just very similar products that came out around the same time in the 1990s. In fact, at some points Digimon was more popular than Pokemon! Another thing people don't realize is, unlike Pokemon, the anime is made up of several different anime revolving around the same concept, like how there are multiple coexisting versions of Marvel superheroes with their own separate universes.* And Digimon Tamers is, by far, the best of the various series.
In this version of the franchise, Digimon are fictional characters with a TV show and card game, kind of like our world at the turn of the century. However, certain children come across real Digimon. Unlike on TV, however, these are violent and wild animals who enjoy the fight and the kill as much as they enjoy the human world. As time passes, it becomes clear that a secret shadowy organization is watching the Digimon and trying to stop them as they emerge into our world. And if these kids aren't careful, they're going to lose more than their new friends.
A darker take on the franchise, Digimon Tamers deals with the issues of what it's actually like to have a connection with what is essentially a sentient wild animal that needs to kill its fellows to survive. It's a slow burn story that grows more complex as time goes on, dealing with heavy psychological issues and even incorporating cosmic horror themes at times. If you want to see how a "kids show" can be more mature than some shows for adults, while at the same time evoking 90's and 2000's nostalgia, this may be the show for you.
*And for those unaware, the concept of Digimon revolves around children who befriend monsters made of computer data, and together they fight evil Digimon and try to maintain the balance of both the human world and the Digital World.
Flying Witch
Makoto is a young witch who moves out to the country to live with relatives. The goal is to attend high school in an area with plenty of nature while also nurturing her magic skills. Along the way, she makes friends, sees amazing sights, and collects a lifetime of memories.
Flying Witch is a relaxing, quiet anime that focuses more on interaction between its characters and making you laugh or feel good rather than building a big, magical world. The result is a mellow series that leaves you feeling relaxed while you watch it. If you're just looking for something wholesome to melt your stress away, Flying Witch is probably the answer.
And trust me, it's worth it just for the "Mommy" joke in the first episode.
Puella Magi Madoka Magica
Madoka Kaname is your average middle school girl. That is, until she saves a mysterious creature from a transfer student in her class, and the creature offers to grant her one wish in exchange for becoming a magical girl and fighting evil entities known as witches. While at first it sounds like a great deal, Madoka soon learns that every wish comes with a price. And for some, it's too much to pay.
Considered a classic of anime, Madoka Magica is a dark take on the magical girl genre, showing the psychological toll of trying to be a savior of humanity at the tender age of 14 can do to a girl. Combined with masterful twists and storytelling, beautiful backgrounds and trippy imagery, this is an anime that's still being talked about today.
If you're looking for an anime to surprise you (or you want to see one of the other anime I watched as research for Toyland), I can't recommend Madoka Magica enough.
Cells at Work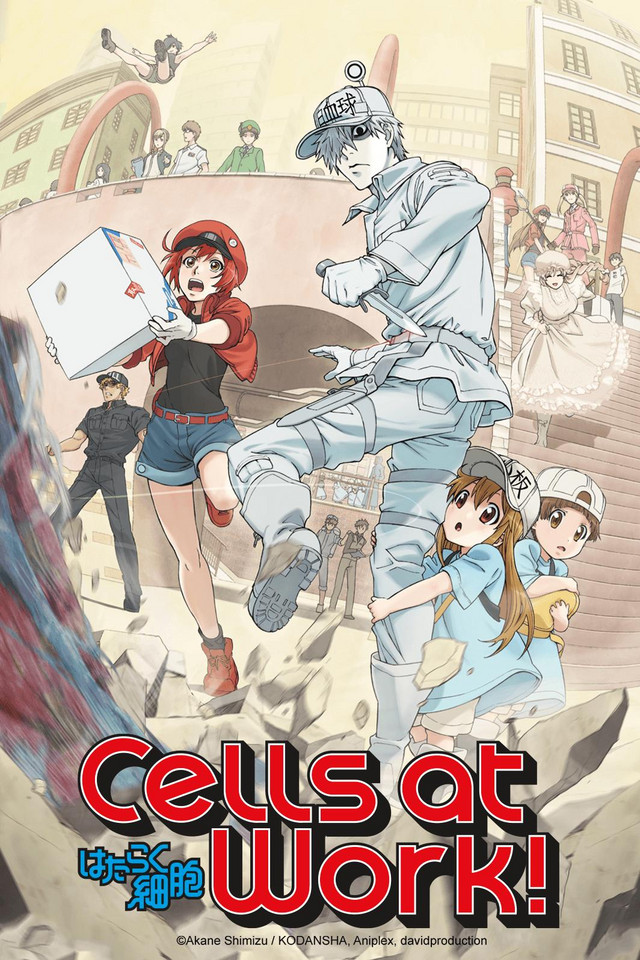 You know that movie, Osmosis Jones? Imagine an anime version that's a thousand times better, and you have Cells at Work, which portrays an anthropomorphized world full of cells working together in a human body as their city.
This series has been lauded for its accuracy as a portrayal of how blood cells actually work (albeit from a whimsical side) and has even been used as a teaching tool in universities around the world. Plus, it's just fun to see a hapless red blood cell hanging out with a ruthless white blood cell, platelets portrayed as small kids going around and building things, and watching bacteria getting the shit kicked out of them.
Maquia: When the Promised Flower Blooms
This is one of the most Ghibli-like non-Studio Ghibli films I've ever seen, and I mean that in a good way. Maquia is part of the Iorph people, a tribe of long-living humanoids with blonde hair, blue eyes, and youthful appearances. One day, after a powerful kingdom invades their homeland and Maquia is separated from her people in the ensuing madness, she comes across a human baby whose mother has just died. She adopts the child, and soon begins a journey that will change the both of them forever.
While I have some problems with how the movie explains the world it's set in, I have to admit this is a beautiful tear-jerker of a film. It captures the struggles of parenting beautifully, while also adding in the pressures of being an eternally young mother. At the same time, it deals a lot with identity, extremism, and the things people are willing to do to survive. It's a powerful film and may make you cry. If you prefer your anime more heartwarming and Ghibli-ish, I can't recommend Maquia: When the Promised Flower Blooms enough.
Gonna be the Twin-tail
A parody of magical girl anime, Power Rangers, and the hairstyle of twin pony/pigtails (aka "twintails") which shows up in 80% of anime, this is one of those anime meant to make anime lovers laugh!
A high school boy with a thing for girls with twintails is approached and tasked with a humongous task: aliens are coming to Earth with the goal of stealing the world's twintails and other attributes that cause physical attraction! Why? Because they feed on that sort of thing, apparently! And this young man must stop these aliens from messing with his beloved twintails…while at the same time transforming into a redheaded girl with twintails named Tail Red.
Yeah, this series is weird. But for anyone who's been around the anime scene long enough, it's basically a goodhearted laugh at what makes most of us keep coming back to the medium. I wouldn't watch it if you're looking to explore anime for the first time. But if you're already into the scene, and you need a lighthearted laugh, Gonna be the Twin-tail is the series for you.
What anime do you recommend? Have you seen any of the ones on this list? What did you think? Let's discuss.
That's all for now, my Followers of Fear. I'll have more posts out soon, believe me (though it may be another 6-8 months before I do a list like this again). And until then, goodnight and pleasant nightmares!