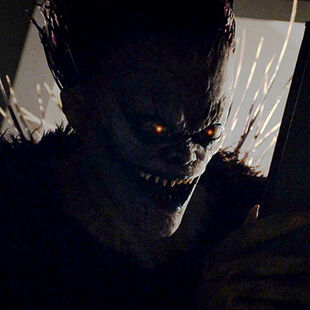 Last week I read an article where Adam Winguard, the director of the disaster that is Netflix's adaptation of the Death Note franchise, had to quit Twitter because he was receiving so much hate mail and even death threats over his adaptation. And yesterday, the admins of a YouTube channel dedicated to reviewing and discussing anime and manga received death threats for posting a positive review of the movie.
Let that sink in for a moment. A whole bunch of people are sending people hate mail and threatening to kill them over the Internet for either making or liking what many consider a bad movie. And I'd bet one of my anime figurines the majority of these angry people are fans of the Death Note anime and manga who are incensed that the director cast white actors in the movie and the numerous changes from the source material, as well as just making a really bad film, or that anyone would like the film.
Now, all three complaints are legitimate: the casting of white actors as what were originally non-white characters is a serious problem that Hollywood and the public are continuing to grapple with even now. The many changes from the source material were not only unnecessary, but actually made the film more of a mess than a wonder. And it was a really bad film (check my review here for my own thoughts on the subject).
But there is absolutely no excuse or reason–ABSOLUTELY NO EXCUSE OR REASON–to send hate mail or threaten someone's life. Especially not for their creative work, no matter what decisions they make or the quality of it. And those who think nothing of doing it have some serious issues that need addressing.
Unfortunately, this isn't the first time fans of a franchise or a character or something along those lines have gone a little bonkers. I was ranting about this issue of fans going crazy back in 2013, when people were leaving intentionally bad reviews of Charlaine Harris's last Sookie Stackhouse book because it was the last book, and threatening harm to themselves and others if their favorite couples didn't end up together (and possibly followed through after a copy leaked in Germany). Later that year, people were sending tons of mail to Warner Bros. and trying to get the White House to intervene in the casting of the Fifty Shades of Grey movie (not sure what they expected to happen with that one).
Since then we've seen negative reactions to the idea of the Ghostbusters reboot, and then the female-led cast, which was so hateful everyone involved in the movie felt the need to comment and even make a joke about it in the movie. We've also seen people react negatively to Captain America becoming an agent of Hydra in the comics, with some people threatening the writers behind this move. One man claiming to be a Marine even said that he would abandon his moral code and become a stone-cold killer because of the change (seriously, did any of these nincompoops think that maybe this was a mind-controlled Cap, or one from another dimension, which apparently is the case?). We've probably all seen articles about angry males attacking women online for attempting to be part of the video gaming community and industry. And there are more of these than I'm probably aware of, with this Death Note thing just being the latest.
What's causing people to become so angry and violent over fictional characters and worlds? Well, it might actually be nothing new. As long as there have been creative works and their creators, there have been people who have gotten passionate about them, sometimes a little too passionate (*cough* John Hinckley Jr. and Ricardo Lopez *cough*). And sometimes people even feel that their love of a property gives them some sort of ownership over said property, and therefore they have a legitimate voice in any decisions over said work. And with the Internet as both means to reach like-minded individuals and platform to voice their vitriol without worry of censure, some of these overly-passionate fans can gather en masse and make their anger heard, warranted or not. Sometimes, a few of them even feel emboldened to make threats of violence.
And I get it. I hated the Death Note movie too. I can think of several ways the Star Wars prequels or some episodes of Doctor Who could've been better (I actually nearly threw a shoe at the TV once because I really disliked an episode). And God, was I upset when shows I really liked, such as Dracula or Sleepy Hollow, got canceled. I would have loved to find the people responsible for all these mistakes and given them a piece of my mind.
But therein lies the problem: none of these fans have any actual ownership or say in the decisions revolving around these stories, and at the end of the day, it's the creators themselves who get to make those decisions. And we should let them. After all, they are spending valuable time and energy to bring us these stories we love so much. It's essentially a gift from them to us, the readers and viewers. And while not all these creative variations are welcome (*cough* first three DCEU movies *cough*), some of these creative risks have led to some the greatest pieces of storytelling ever made. Remember there was a time when the Winter Soldier wasn't a thing, let alone a former friend of Captain America gone evil. When Heath Ledger was cast as the Joker, people swore it was the worst casting decision that could be made, and yet Ledger's Joker is arguably one of the best Jokers ever brought to life. And let's be real, William Shakespeare ripped off and made changes to most of the stories he's famous for! And look at him!
And this is not just for variations in already established characters and stories. Creators should be able to experiment with stories and characters. Otherwise, would we have Doctor Who? Harry Potter? Death Note the manga? Stephen King's IT?
So what should you do if a story you like or an adaptation of a story goes in a direction you dislike? Well, there are two possible decisions that you could go that won't make you look like a tool (trust me, as both fanboy and creator, they work). One is to do what I did with Death Note: calmly point out what was wrong with it or what you disliked. You don't have to be angry to get your point across. I've found calmly discussing what you disliked about something does more than shouting. And besides, being rude or angry or telling someone to die never convinced anyone to your point of view or made them change their ways.
The other is to just not take part at all. After Jodie Whitaker was announced as the 13th Doctor, many fans reacted by simply deciding not to watch the show anymore. I even have a friend who decided to do that, and while I disagree with their view, I respect how adult their reactions were. (Thought to be fair, after all those years of Moffat tropes, it might've been easier to leave than to work up anger over a casting decision). So if you don't like what the creators are doing, just leave. Don't ruin the experience for everyone else who may want to try out the new direction.
And if you're a parent with kids who may get overly passionate about fictional works, maybe have a conversation with them about how to respond to this sort of thing. It might save someone a lot of headaches later on.
While I doubt this problem will go away anytime soon–if anything, it might get worse over time–we can at least approach it in a healthy manner, rather than with further fear and anger, as well as to find healthy alternatives to anger and/or death threats. Either that, or we never get any sort of new stories ever. And I really don't want to see that.
That's all the ranting for now. The next week and a half will be crazy for me, so I have no idea how much, if at all, I'll be able to post until October 1st. I'll try and get something out next week, though if I don't, please don't hold it against me or send death threats.
Until next time, Followers of Fear. Pleasant nightmares!