I would like to thank my friend Kat Impossible for tagging me for this (especially since I was in the mood to blog something other than an "Agoraphobia" update, just didn't know what). Go check out her answers on her blog.
Now, I don't know how much I've talked about my alcohol preferences on this blog (though I'm sure it's come up once or twice). But while I do like beer, I also enjoy wine every now and then (in fact, Brothers Drake honey wine, better known as mead, is what I use to celebrate finishing novels or getting them published). I'm especially fond of sweet wines, like Moscato, Japanese plum wine, or the abovementioned mead. That's why I'm kind of excited to do this tag, even if it involves wines I don't normally drink. So, without further ado, let's begin.
BOX WINE–a book that people will judge you for liking but you like it anyway!
I can think of only one book that could possibly fit this category, and believe it or not, it's a Stephen King novella! The Library Policeman, which you can find in his collection Four Past Midnight. The story involves a real estate agent who runs afoul of a creature masquerading as a librarian and which intends to use the agent for its own nefarious purposes. While it's good and extremely unnerving, there's a pretty graphic scene in the story that's essential to the story, and it's one of the first things people think of when they think of the novella.
It's also why people might judge you if you say you like the story, or if you want to see an adaptation of The Library Policeman. Which, honestly, given the subject matter, would be a hard sell. Still, if you either approached the problematic scene in the right way or rewrote it in a way that preserves the impact…anyway, that's my choice. Don't judge me too harshly now!
ORGANIC WINE–a book that doesn't have any added crap in it and is just written perfectly.
I was going to put one novel here, but I'm saving it for later, so I'll put this one here. The Girl Next Door by Jack Ketchum. *shiver!* That book is famous for how traumatizing it is. And considering that the events it's based on aren't too different from what's in the book, that somehow makes it even more terrifying. But that kind of lends itself to winning this category, as none of what's depicted in the novel is technically gratuitous or unnecessary. It's just a reflection of real events.
Not only that, but if Ketchum wasn't such a talented writer, he couldn't write the novel the way it is and make it so terrifying. In another person's hands, they may have added all sorts of melodrama or other unnecessary elements. But in his hands, and with his willingness to push boundaries, it's a masterpiece!
That being said, anyone going in for the first time should prepare for a ton of anxiety and maybe some nausea. You've been warned.
GLUEHWEIN–a spicy, wintry read.
Never heard of that wine. Also, what do you mean "spicy?" Like, sex scenes? Whatever, I'm going with The Shuddering by Ania Ahlborn. It takes place in winter, in ski country, and there are a lot of romantic subplots in the story, so I think that works. Plus, it's scary. For those unfamiliar, it's kind of a cross between a creature feature and a good, old-fashioned splatterpunk slasher story. I enjoyed it immensely. Why haven't they made a movie out of it yet? Keep the monsters in the shadows but keep the focus on the survival instinct and it'll be great!
SAUVIGNON BLANC–a really sharp and aggressive read that you couldn't put down!
I actually had to look back through my reviews to find a book that works for this one. In the end, I found one that fits "sharp and aggressive," and that's The Five by Hallie Rubenhold. This book takes a look at the Canonical Five, the five confirmed victims of the serial killer known as Jack the Ripper, and uses historical records and an understanding of Victorian social mores and beliefs to reexamine their lives. Doing so, the author Ms. Rubenhold strips away every belief we've had on the victims, and therefore the Ripper, till we're forced to look at the case in an entirely new light.
This book was an eye-opener for me, and I found the author's argument highly convincing. In fact, I even referred back to The Five while writing The Pure World Comes, where the Ripper is an important aspect of the story. And if you read the book, you'll understand why I place The Five in this category.
Click here for my full review of the book.
PINOT NOIR–a book you didn't expect much from but ended up getting blown away.
It's easier to pick a movie than to pick a book for this one. Still, if I go back far enough, there's one book that I can think of. The Amulet of Samarkand, the first book in The Bartimaeus Trilogy by Jonathan Stroud. I was a huge Potterhead when I was younger, so my mom suggested it to me while we were shopping in a Barnes & Noble one day. At first, I was dismissive, but eventually I was convinced to try it out. And then I read it.
Hoo-boy. The lead characters are awesome and easy to relate to, Bartimaeus himself is hysterical, and the world building was quite an eye opener after reading nothing but Harry Potter for ages. Add in some political intrigue, a plot with twists and turns, and excellent writing, and I was hooked. I was really sad when the series ended, because it was just so good (there was a prequel, but without certain characters, it just wasn't the same).
Still mad that they haven't made a movie franchise or TV series off of these books. Supposedly, a movie adaptation is in the works, but until I see some actual progress, I'm not getting too excited.
CHARDONNAY–a good summer read that was super zesty.
What does that even mean, super zesty? Does the story have to have melted cheese with a sharp taste on it or something?
Oh well, I'm going with Battle Royale by Koushun Takami. I mainly associate it with summer reading, and while not covered in cheese, it's an exciting thrill ride that really engrosses you as you get into the story. So, I guess that makes it super zesty. In any case, this book was the first book in the battle royale genre (which is why it gets away with using the name) and does it better than anything since, especially Hunger Games.
Click here for my review of the book, old as it is.
ROSE–a book that has a little bit of everything in it.
Why, that's easy. It's my novel Rose! Just kidding. I'm not that kind of guy.
No, I'm going with the Kieli novels by Yukako Kabei. The series follows an orphan girl who can see ghosts and other spiritual beings. Who befriends/falls in love with an undead soldier with an attitude problem. They travel the world together, which has a dystopian, steampunk aesthetic. Most of the planet is also ruled by a tyrannical church. And the planet is an exoplanet that was colonized by spacefaring humans centuries prior to the book's storyline. And on this planet, they deal with monsters, ghosts, dangerous church figures, criminals, and so much more. All the while trying to wrestle with their feelings for each other.
See, it has a little of everything in it! And I'm honestly sad not more people have read the books, even among fans of Japanese light novels (novels with the occasional illustration thrown in). If, however, the above description sounds interesting to you, I suggest reading it. I loved it in my teens and early college years, and I'm sure you would too.
Click here for my review of the series.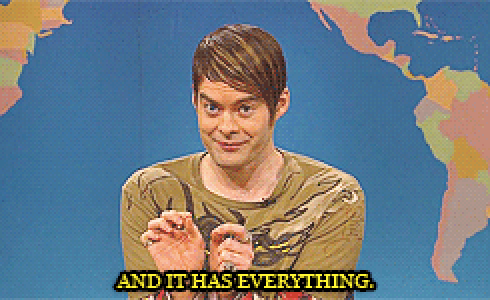 SHIRAZ–a full-bodied book that is dark and juicy.
By "full-bodied," do you mean doorstopper thick? If so, I'm going with Needful Things by Stephen King. Not only does it have one of King's best antagonists, but it makes fun of and delves deeply into human materialism and greed. How much will you go to keep something you desperately want? To own something, or to be right, or to get answers and/or revenge? While a lot of what occurs in the book seems silly, it also feels like some of this stuff could really happen.
I especially love the audio book, which King narrates himself. He has a much better speaking voice than I do, and he gives each of the characters a distinctive voice. You have to listen to it to believe it.
Also, it's a damn shame that the only adaptation of this book was a movie, and a really bad one at that. I think a comic book adaptation would work very well. Not only could the artists actually depict some of the darker, weirder, or smuttier stuff without constraint like in a movie, it would just be fun to read and see how they depict some scenes or situations (*cough* two middle-aged ladies who think they're having sexual affairs with Elvis Presley *cough*).
MERLOT–a smooth, easy read with a soft finish.
Ooh, tough choice. I guess I'll go with Remina by Junji Ito. For those unaware, it's a manga about a mysterious planet that appears in the night sky and is named after its discoverer's daughter. As the planet starts approaching Earth, however, other planets start to disappear, leading to trouble for both its discoverer, and young Remina as well.
I love this book. It's a great story that you can finish in just one sitting, but it has quite the impact that leaves you satisfied. The last few pages especially leave you with this strong feeling that there is no other way the author could have finished the manga without sacrificing the quality. Yeah, some elements are a little hard to believe, but who cares? It's still an excellent science-horror story that shows how humans react in the face of annihilation, and how attributing blame to the wrong person can ruin lives.
Still waiting for a movie based on this. The fact that nobody has yet bewilders me. Get on that, Hollywood!
Click here for my full review.
CHAMPAGNE–Your favorite book!
That's an easy one, it's Kill Creek by Scott Thomas. Still my favorite novel these days. Four famous horror writers go to a reputedly haunted house for a publicity event, but end up awakening something powerful and dark. Something that takes control of their lives and twists them for its own use. And if they're not careful, they will die because of it.
This novel was a revelation for me. It basically lists the qualities of Gothic novels in the early chapters and then uses those qualities to great effect. Plus, the characters all feel like real people and you really come to love them, especially the four writers (TC Moore, you are the bomb!).Hell, it's so good I bought my own copy after listening to the audio book fifty thousand times, and I sent a copy to a friend who did me a big favor recently as a thank you.
If you're a horror fan but haven't read this one yet, at the very least put it on your TBR list. Trust me, you won't regret it.
Click here for my full review.
---
Those are picks. What did you think? Have you read any of them? Are there any you want to read? What would you pick? Let's discuss in the comments below.
And if you like this tag and think you'd like to try it, THEN CONSIDER YOURSELF TAGGED!!! I hope you enjoy doing the tag and maybe you'll link back to me so I can see your answers.
That's all for now, my Followers of Fear. I hope to be back for another post very soon. Until next time, I'm off to enjoy a beer (I'm saving the wine for Passover, because that's really the only alcohol you can drink during that holiday) and do a late-night writing session. Pleasant nightmares and watch out for "Agoraphobia" coming out in just over nine days (links below!).
Agoraphobia:Amazon US, Amazon UK, Amazon Canada